The Ara Policy Library is a single point of access for most institutional-level documents.
The Ara Policy Library contains most institution-wide compliance documents that have been approved by the Board or its delegated authorities.
The Ara Policy Library does not house all departmental/ school handbooks, guidelines, or Industry regulations/ specifications.
Policies not shared via this site, are restricted policies and can be viewed by Staff only, via the Ara Waituhi page.
If you're an overseas student, we have several other policies for international students
Uncontrolled versions
Once printed or downloaded and saved or uploaded outside of the Ara Policy Library, a document is considered an uncontrolled version.
Help shape Ara policy
Any Ara staff member wishing to have some input into the review of a policy or procedure during the review process should, in the first instance, contact the Policy Owner listed in the document.
Roles named in Ara policies are true and correct as at 31 October 2022. From 1 November 2022 Ara officially becomes Te Pūkenga, which may result in role name changes.
Why do we have policies and procedures?
As an organisation, we want to support our people to do the right thing, at the right time and in the right way to keep themselves and others safe
Policies provide us with clear expectations of the appropriate standards we must all follow to ensure we comply with the business requirements, quality assured processes and the law
By following our policies correctly, we can build a stronger and more unified culture aligned to our values, priorities and stakeholder needs.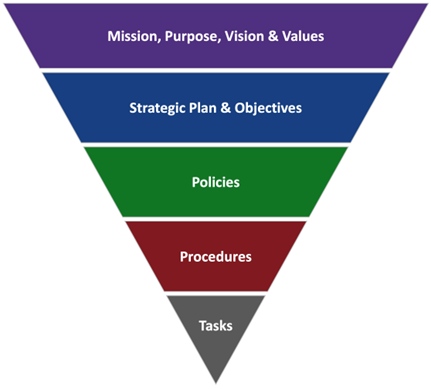 Policies are the distillation of everything above them in the hierarchy -- mission, values, and strategic objectives, along with the law. Policies articulate goals that are narrower than strategic objectives and identify limits, or boundaries, for behaviour and actions that are necessary to complete those goals. The limits are drawn from Ara/ Organisational values and NZ Legislation. Policies will often identify general parties (e.g., divisions, departments, or job titles) responsible for creating, maintaining, executing, and monitoring procedures to complete identified organisation functions and strategic objectives. In many instances, policies do not contain granular procedures unless they are required by law, or necessary to dispel confusion, controversy, or conflict.
Procedures contain instructions and guidelines for accomplishing cyclical, individual tasks. They are the most granular of all documentation supporting business processes, and identify what (in detail), when, where, and how. The what (generally), who, and why of business processes comes from policies above, and everything that informs them.
What Is the Purpose of Policies and Procedures?
The purpose of policies and procedures is to bring uniformity to operations. First, policy and procedure bring order to operations. They tell employees and customers, what to do and how to do it. With that consistency, the organisation can run more efficiently and in harmony. Policies and procedures mobilise the organisation's talent to help the business to achieve goals, to enable customer success and satisfaction and to support all stakeholders (who, where how and when) in raising concerns. Not every policy and procedure will be easy or fun, but over the long term, having policies and procedures benefits the organisation (and stakeholders) in all sorts of ways.
Policies, procedures and regulations are provided in the written form, they will also support escalations and disputes and will be the primary evidence in all appeals (internal and external).