As a child growing up in China, Xingyu (Dave) Chen was always interested in outdoor activities like skiing, mountain biking, rock climbing and mountaineering.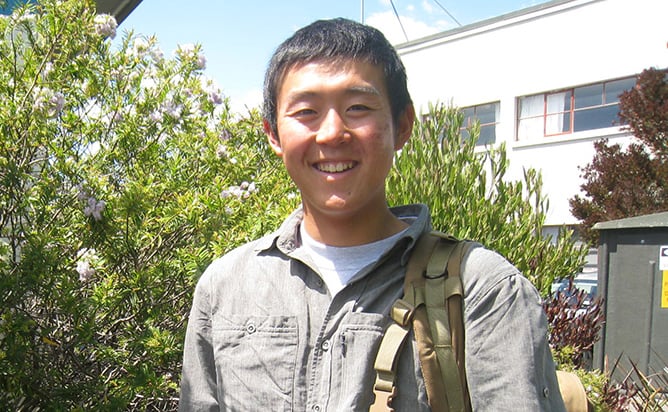 After attending high school as an international student at Auckland Grammar, those interests led him to study the Bachelor of Sustainability and Outdoor Education at Ara Institute of Canterbury.
"I decided to enhance my English at Ara and then after a six month foundation course I gained enough credits to enrol for the degree," he says. "It's the only programme of its kind in New Zealand, which is why I chose it."
The Bachelor of Sustainability and Outdoor Education is unique in its emphasis of sustainability in an outdoor education context and Dave says one of its strengths is that it gave him a much better understanding of the environment.
He also values the opportunity it provided to develop practical outdoor skills. "We went on so many different field trips including rock climbing, white water kayaking, sea kayaking and back country ski touring. On our five-day skiing trip, I not only learned how to ski but I also learned about the alpine environment and studied avalanches."
Dave loved spending time in the library at Ara. "There are so many books about outdoor education and sports science. The learning support staff are also very helpful." His tutors were equally helpful. "As English is my second language, my tutors were always patient with me and helped me with extra one-to-one time."
As part of his studies, Dave undertook an action project with Environment Canterbury. He says it taught him great communication skills and was a fulfilling experience. "The action project in my degree was very meaningful because it's a way for a student to present creative ideas to benefit our society."
Through the connections Dave made during his degree he was selected to join the New Zealand Alpine Team and was offered a job. "I have a job offer to work as a mountain guide. I think if you're willing to work as an outdoor instructor, you'll have a high chance of employment. You can also become an outdoor education teacher at a secondary school with a one-year postgraduate teacher training course."
That's exactly what Dave is doing now through the University of Canterbury. His goal is to become an outdoor education teacher at a high school.