Rong Wang decided to study nursing at Ara for two reasons. "Ara has a very high employment rate for its nursing graduates," she says. "Also, Ara focuses not just on theory, but also on practical skills."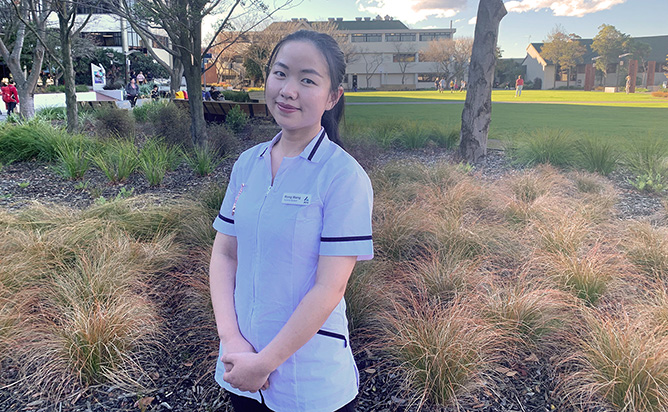 Rong is pleased with the choice she made. Now in her second year of a Bachelor of Nursing, the 31-year-old from China is confident she's getting exactly the skills she needs to make her a competent nurse.
"It's preparing me so well for a career in nursing. We started with basic nursing science knowledge, the professional responsibilities of a registered nurse, and how to communicate effectively with patients and families. Then we moved on to clinical placements that enable us to apply the knowledge we've learned in practical situations."
Rong says the teaching style at Ara is quite different to what she was used to.
"In my country, teachers are more likely to explain everything in detail and we learn most of our knowledge from teachers. The teacher would speak and we'd just listen. At Ara, we have all sorts of different class activities, such as presentations, scenario discussions and group activities. We spend lots of time doing self-study and for many assignments we need to do research and write essays. It's far more self-directed learning here."
The balance between theory and practical at Ara has been a highlight for Rong. "It's important for us to have a good level of nursing knowledge. But it's also critical to gain the appropriate practical skills in order to deliver good care to patients and families."
Rong says she's enjoyed living in Christchurch. "It's a great city and the people are friendly. It's not too cold or too hot and we get lots of sunny days. I can go hiking or go to the beach. The facilities in the central city like the new library and new cinema complex are great too."