Originally from Thailand, Pornpitcha Worathongchai attended Riccarton High School before enrolling at Ara to study the Bachelor of Information and Communications Technology.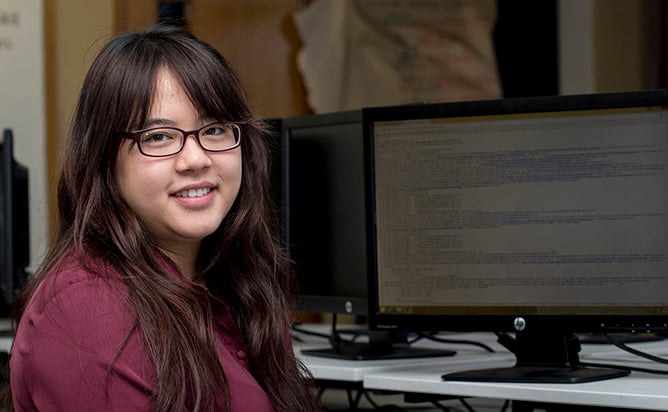 "I've always been interested in computers so I wanted to explore the ways I can use programs to express my creativity and personal interests," she says. "This course allows me to pursue my interest in computers while exploring the types of jobs I might be interested in in the future."
Pornpitcha chose to study at Ara because of its reputation for hands-on learning. "I'd heard from many people that Ara offers a more practical experience that can help students in their career and I thought that would be beneficial."
The hands-on learning style at Ara is one of several aspects Pornpitcha is enjoying about her studies. Others include the small class sizes and one-on-one teaching, which she says enables her to get the help she needs in order to perform at her best.
"I also enjoy the practical experiences the programme includes. They introduce us to the different types of challenges we can expect in the real world. Many of the tasks we're given cover many skills and working styles."
Project work has been another highlight for Pornpitcha. "Project work allows me to explore my abilities and develop my skills in many areas, especially in communication where I can sometimes struggle. It also often gives me a unique experience, working with new people and software that I'm not familiar with."
After completing her degree and internship, Pornpitcha intends to gain more work experience and return to Thailand to work in IT.