Study in New Zealand leads to bright future. On a visit to New Zealand, Kwanwoo Kong fell in love with Christchurch and decided he wanted to make it his home.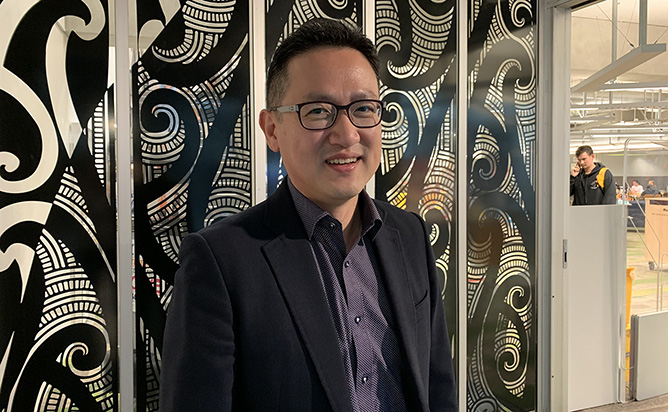 At the time, Kwanwoo was living in Daegu in South Korea, home to two and a half million people. "Traffic congestion and air pollution are getting more and more serious there," Kwanwoo says. In contrast, Christchurch has a population of just under 400,000 people. "It has a lot of gardens which make the air cleaner, and it's near the sea and mountains," he says.
Kwanwoo and his wife made the move to Christchurch in September 2018.
In South Korea, Kwanwoo had worked as a physiotherapist for 15 years. Although he had a PhD and considerable experience, Kwanwoo's English was limited, and he knew he needed to understand the health sector in New Zealand better in order to resume his career in his new home.
"I'd heard that Ara was renowned for its medical education, and its English school," Kwanwoo says. "So I decided to take an IELTS class to improve my English, followed by a Postgraduate Diploma in Health Science so I could learn about the health sector in this country."
Kwanwoo says his teachers taught "passionately and professionally", which helped him achieve a very good IELTS exam result in just three months.
With much-improved English skills, Kwanwoo felt confident moving on to his postgraduate diploma. "The tutors and my classmates are great and I look forward to every class. I'm learning exactly what I'd hoped I'd learn. It will help me a lot."
He's also enjoying the different learning style at Ara. "In Korea, the common style is to accept the content provided by the teacher, but here, teachers always respect students' opinions and are willing to answer all questions. It's good to have an educational environment where we can freely share opinions in a horizontal relationship rather than a vertical relationship."
Kwanwoo is excited about the future in his new home. "I love this city and I want to stay here," he says. "Once I've finished my postgraduate diploma I will work as a physiotherapist and live in Christchurch permanently."