Growing up in Nepal, Dinesh Budhathoki was fascinated by innovation and invention. His childhood fascination grew into a passion which has taken him across the world to study engineering at CPIT (now Ara Institute of Canterbury).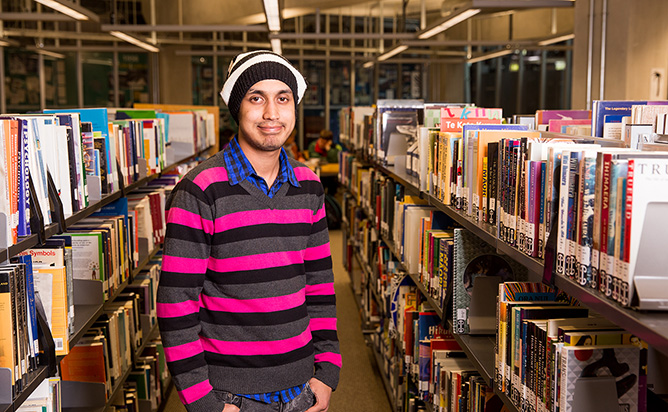 "My dream can only be fulfilled by studying engineering," he says. "And the reason I chose civil engineering is to innovate and come up with new ideas in the field of construction. Also, it allows me to get close to the earth and its physical characteristics, and to work within its physical parameters."
The focus on vocational training at Ara, and its reputation for excellent graduate outcomes, were two of the factors that prompted Dinesh to come to Christchurch to study engineering. Another was the widespread construction taking place in the city following a major earthquake in 2011. "I wanted to study here to see the effect of the earthquake and how the city is rebuilding."
Dinesh says that as well as work-related skills, his course has taught him many life skills too. "The tutors are just awesome. Their teaching style and interaction with students is praiseworthy. I would strongly advise others to study here and do the same course because it's the best institute for this course. It provides the knowledge and the practical skills needed in real-world workplaces."
Dinesh's enthusiasm and talent for engineering has seen him become one of the top students in his programme. He's also a study group leader, providing academic support to other engineering students, and an assistant librarian.
On top of this busy schedule, Dinesh also works part time as an engineering technician for City Care at its waste water treatment plant in Lyttelton. His role involves monitoring the sludge optimisation process at the plant. "I undertake a number of tests, do calculations and also deal with the monitoring of a pilot plant. All the reports and results are provided to the Christchurch City Council."Having completed his diploma, Dinesh has more study in mind, along with some clear goals. "I want to get some work experience, then I'll complete my bachelor degree with honours and a PhD. After that I want to become a successful engineer and do something for my home country Nepal as well as New Zealand."