Unlike many of her fellow students, the desire to become a fashion designer wasn't what motivated Melissa Turner to study the New Zealand Certificate in Fashion at Ara.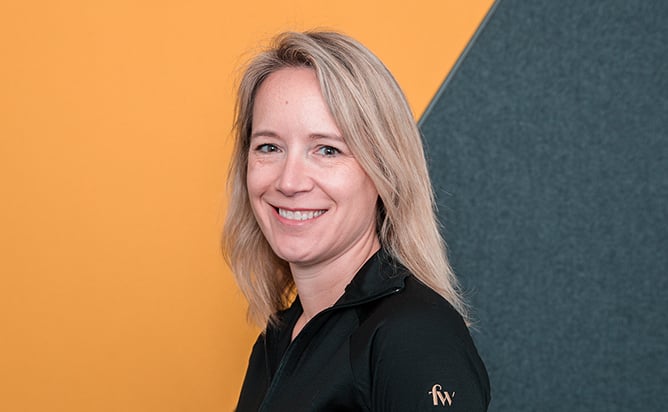 Instead, Melissa – who has a background in ecommerce and digital marketing - wanted to gain an understanding of the industry to assist with a business venture.
"I'm working with a designer, patternmaker and local manufacturer to launch a range of active wear for women called Freely Wilds," she says. "The product development stage was a steep learning curve so I wanted to get some technical expertise and a better understand the design process. With that kind of knowledge, I could ask more intelligent questions and perhaps make the process a bit faster for the next set of products."
The start of the 20-week certificate was perfect timing for Melissa as it fitted in with a gap in her workload on Freely Wilds.
She says she's surprised at how much she's enjoying the course workload. "I was surprised that 'full-time' really meant full time here, because my previous experience of being a full-time student was the odd lecture here and there. I've been really busy on this course but it's providing so much value."
Melissa has also been pleasantly surprised at rediscovering how much she loves being creative. "It's been fantastic to find myself in a 'flow state', experimenting with different concepts. Working through that process has been a real eye opener."
Melissa is impressed that many of her tutors still work in the industry and says she's learning content that is totally practical and relevant, rather than just academic theory.
"It's a great introductory course that packs a lot into the 20 weeks. The tutors deliver an excellent balance between being helpful and answering questions, and supporting you to find your own solutions independently. They're great at encouraging self-management and professionalism."
Already, Melissa's been able to apply some of what she's learned to her work on Freely Wilds' products. Meetings with her designer and patternmaker have been quicker and easier because they're not having to explain things to her in so much detail. She's also more confident that they're doing the right thing.
Melissa encourages anyone considering the course to do it. "Definitely! And don't worry if you're not the best artist in your class – the course is about far more than just design. I think it should be a pre-requisite for anyone considering doing fashion at degree level. Having the patternmaking and garment construction skills that you learn on this course will put you at an advantage when it comes to starting your degree."