While attending a course at Ara Institute of Canterbury's Next Step Centre for Women, Mel Ngahooro discovered a passion for science. It sowed a seed that led her to study a degree in laboratory technology and embark on a career that she loves.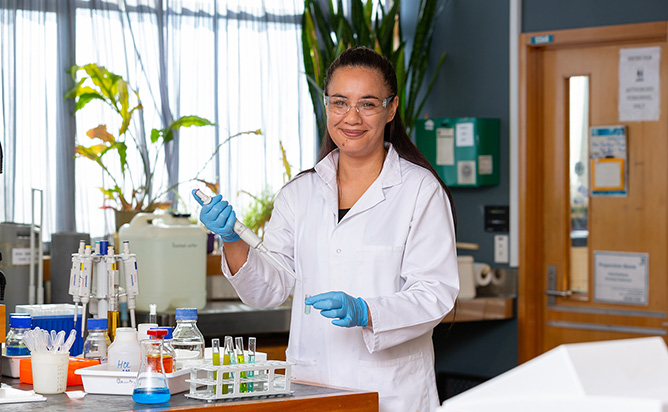 Mel's journey is inspiring. Before studying at Ara she was a process worker at Tegel Foods. Today she's an analytical technician at Lincoln University.
"I found my passion at Ara and it only felt natural that I study at Ara to turn that passion into an attainable career plan," Mel says. She studied the Bachelor of Applied Science (Laboratory Technology)*, which she completed in 2017.
"The programme had a team of strong, dedicated, knowledgeable and highly collaborative tutors who were always available to students. Objectives were clearly defined to us and the tutors would guide each of us to achieve those objectives. If you were struggling personally, they would guide you to appropriate support services at Ara."
A highlight for Mel was the programme's research projects and work placements. "They give students an insight into the practical side of things and they utilise all the theory that you learn."
One of Mel's work placements was at Lincoln University. The experience led to her being offered employment there. She says many of her Ara courses tie directly into the work she does now. "For example, the quality assurance course directly reflects what I do in my job because the university seeks to optimise quality in terms of its clients' needs. The degree covers a diverse range of science subjects and that gives you many choices for the field you want to pursue."
Mel's next goal is to integrate aspects of her culture into her career. "I've recently enrolled in a Maori course as I feel the need to represent my culture in the science industry. I'm also hoping to get into environmental science as it drives me to give back to the land."
*This qualification has since been replaced by the New Zealand Diploma in Applied Science Level 5 and the New Zealand Diploma in Applied Science Level 6.