Bachelor of Design graduate Hori Te Ariki Mataki is the first in his family to get a degree. "My parents are super proud," he says. "They see how my dedication to study has paid off, especially being able to provide for my family and buy a house. That is my main achievement – giving my family a home."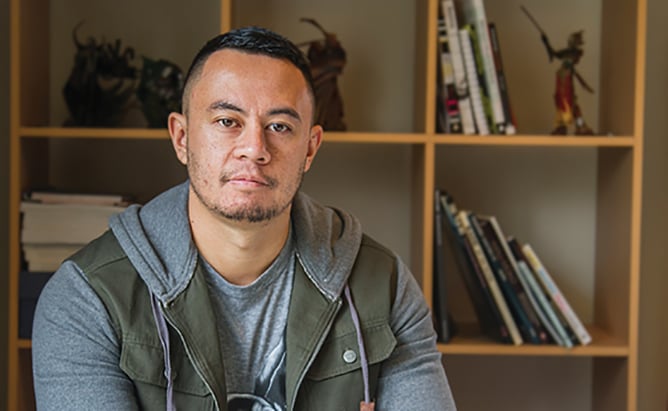 When Hori started at CPIT (now Ara Institute of Canterbury), it was the first time he'd been outside of a Māori learning environment, having come through the bilingual unit at Aranui High School. He says CPIT taught him a work ethic and how to juggle lots of jobs at the same time.
A keen illustrator from a young age and fluent in Te Reo, Hori has always been interested in exploring the boundaries between Pākehā and Māori design. Today he's found a niche doing just that. His successful design business, Ariki Creative, which he started in 2007, specialises in Māori design and creative. Clients include Te Rūnanga o Ngāi Tahu, New Zealand Merino and even CPIT.
"It's funny how things come back around. I remember walking onto campus and picking up the book to apply for my degree and how nervous I felt, hoping I would do well. Now I'm designing some of those very books. I hope the words and imagery within them inspire others to do great things."
Hori says one of the most inspiring jobs he's worked on was the launch of He Toki ki te Rika (Māori trades training) at CPIT. "Being a part of that was a huge honour. It's good to be a part of the rebuild even if I just drew the pictures of those who really get their hands dirty."
Hori says his greatest satisfaction comes from working in the community and using his experience to empower others.
"What is success if you're the only one enjoying it? To me, our whānau and communities are the true measure of success, not just individuals. My advice to young graduates is: write down your ultimate goal - no matter how big - and set a time to complete it, a year or two at the most, then work on that goal every single day. After a year or two, if you haven't achieved it, you'll still be a lot closer than when you started. By the way – if anyone ever wants advice or just needs a hand, hit me up."