Timaru's Polychrome exhibition goes post-graduate
Ara's postgraduate students are the stars of Polychrome, the end of year exhibition for the school of Art and Design held at Timaru's Aigantighe gallery from 15 November.
Timaru and Christchurch-based students from the Bachelor of Media Arts (Honours) and the Master of Arts, offered under arrangement with Waikato Institute of Technology (Wintec), will share the culmination of their research and professional practice.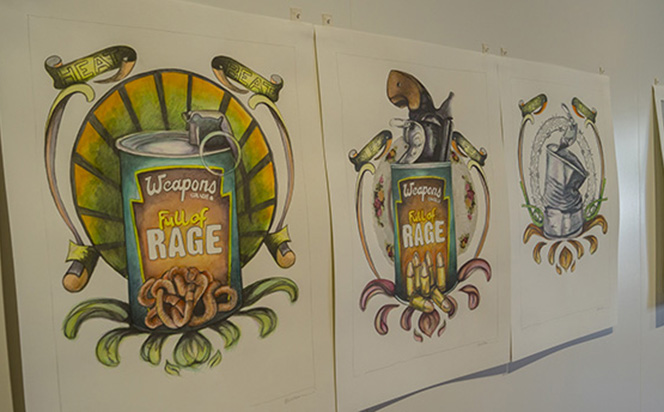 Postgraduate student Rachael Winter's 'Can of worms' weapons series for Polychrome explores domestic violence. Photo credit: Ron Lindsay
"This year's show should be very interesting," Bruce Russell, Head of the Art and Design school, says. "The work on display is of a very high calibre due to the nature of the postgraduate programme."
The student artists will show a variety of work from drawings and paintings, through to sculpture and ceramics.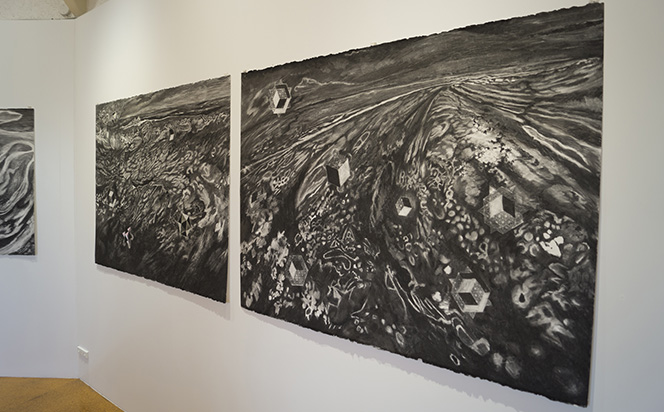 Craig Cook's moody black and white 'Reflection on Seadown Beach' series of charcoal drawings draws inspiration from the mindscapes of a rough stretch of Canterbury coastline. Photo credit: Ron Lindsay
Postgraduate students at Ara have access to studio facilities, technicians, peer review and professional supervision to develop their practice. Research is a large part of the postgraduate programme, and students each explore themes and ideas they are interested in, such as environmentalism, gender politics and post-colonialism, which are reflected in their work.
"Hopefully this year's show knocks people's socks off and challenges them when they see the art on display," Art and Design tutor and programme coordinator Michael Armstrong says.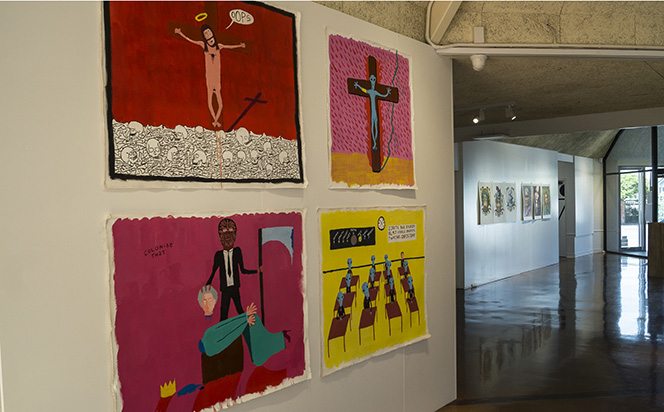 Joe Smith makes a strong statement with bright 'punk' acrylic paintings that explore dramatic themes in a colonial context. Photo credit: Ron Lindsay
Rachael Winter and Joe Smith have been working towards their Honours Degree qualification, and Craig Cook is working on his Masters. They are joined by Christchurch students Elizabeth Moyle (Masters) and Jenny Ritchie (Honours). These degrees are offered by Ara under arrangement with Wintec, the Hamilton polytechnic.
Polychrome is held in the prestigious Aigantighe art gallery in Timaru, which Ara has had a relationship with for over 20 years. The gallery lends their expertise to the show with the display of artworks and producing catalogues to accompany the exhibition.
"We're always very grateful to the gallery for the work they put in to making the show run smoothly and provide a professional environment for the students to exhibit their work," Michael says.
The exhibition is a great opportunity for the students to gain real life experience of being involved in an art exhibition.
"This is a large step towards the students becoming self-sufficient, successful artists. Being able to show their work at a gallery such as Aigantighe will help them in their future careers."
There has been keen interest from the Timaru community regarding the event, and it is a great opportunity to engage with the public around the work students have been doing this year, Michael says.
Polychrome is at the Aigantighe Art Gallery in Timaru from 15 November to 9 December.
Read more: Art & Design qualifications at Ara.