Timaru outdoor instructor lands award and plum job
Georgia Orme has just topped off an incredible year with a trip to the New Zealand Outdoor Instructors Association (NZOIA) National Training Symposium in Taupo, where she received a Tertiary Award.
Before even finishing in the Diploma in Outdoor Instruction and Management at Ara's Timaru Campus next month, Georgia has already been offered a job at the Hillary Outdoor Center, a plum position in the industry that she is "pretty stoked" about.
"The symposium was incredible. I learnt heaps," she said. "There were professional development workshops and it was awesome for networking with passionate people doing awesome work."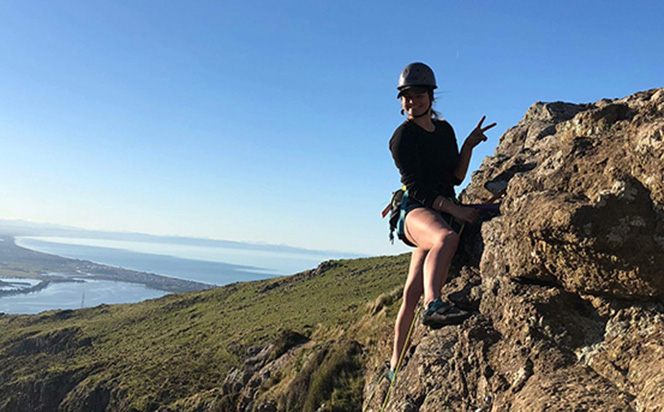 Orme was nominated for achieving significant personal and professional growth. "Georgia has developed to be a person of good character; friendly and open, reliable and trustworthy, hardworking and honest, and with much integrity. Georgia is very motivated to work as an outdoor instructor/educator in the future, and I have no doubt that she will positively affect many young kiwis' lives in the future while working in the outdoor industry," her tutor Ara Timaru Outdoor Education Team Leader Sash Nukada stated.
Graduate Mark Parfitt took the prestigious NZOIA Emerging Instructor Award, for an instructor who displays great potential for the future and demonstrates strong commitment to professional development and qualification acquisition.
That makes four Aoraki Polytechnic/Ara Timaru graduates (Jon Harding, Tim Shaw and James Geddes) who have won the award over the past 6 years, Nukada says.
"We are very proud of the quality of our tutors and our graduates. This is one of the original outdoor education/recreation courses in New Zealand and we have 100% employment of our second year L5 graduates for the past seven years, all into good outdoor jobs."
Highly regarded by industry, Ara's outdoor Education programmes combines practical skills in bush skills, rock climbing, white water paddling, mountaineering, mountain biking and skiing with leadership and instructing skills.
"We are ideally situated in Timaru. Our campus is very close to loads of outdoor venues, so most of our students get out a lot in the weekends tramping, climbing, paddling, and skiing. We have three rock climbing crags within a 30 minute drive of town, Peel forest and the Rangitata river are 50 minutes away, Mt Dobson ski field is 70 minutes away, Fox Peak and the entire Two Thumbs range just 90 minutes away, and Mt Cook, Wanaka, Queenstown and Arthurs pass are all accessible in a weekend!"
Updated programmes being offered in 2019 are the Level 4 National Cert in Outdoor & Adventure Education and the Level 5 Diploma in Outdoor Instruction & Management. These qualifications pathway to the Bachelor of Sustainability and Outdoor Education, and post-graduate programmes at the Christchurch Campus.
Ara has just announced a new Masters of Sustainable Practice, which is available in 2019 and can be studied through a combination of wānanga (workshops) and online.
Tourism is growing and many visitors are drawn to New Zealand by the environment and adventure-based activities, Nukada says. "There is a huge shortage of skilled Kiwi outdoor practitioners and way too many jobs at present. You can make a great career out of this; it's no longer just a summer job!"