Timaru digital media graduate seeing beyond life's hurdles
Hayden Timmings isn't one to let a significant sight impairment prevent him from doing the things he loves, like art and skateboarding.
Diagnosed with SLDs (dyslexia, dyspraxia, memory storage and retention issues, auditory process­ing issues and visual processing issues) at age eight, Timmings is skilled at adapting to his circumstances. "I've just done it all my life," he says. "If I need to do something slightly differently to make it happen, I just do it. Creative thinking and problem solving come naturally to me."
That attitude has seen the 24-year-old Timaru local embark on a career as an artist after successfully graduating from Ara with a New Zealand Diploma in Digital Media and Design in 2019.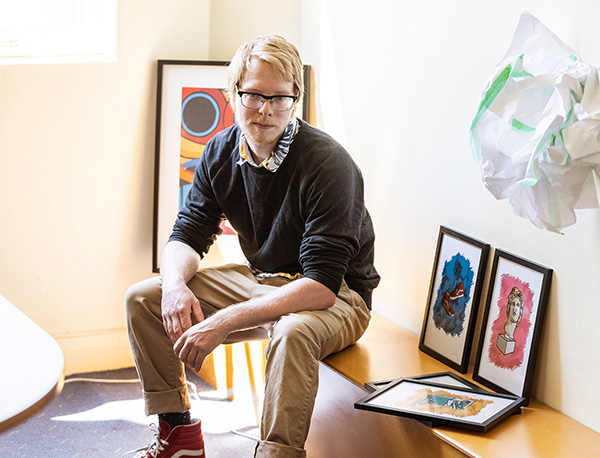 Hayden Timmings is succeeding in art despite a significant sight impairment.
With new design skills and a broader understanding of the theory of art under his belt, Timming's own art has evolved. "Before undertaking the diploma my art lacked any depth of understanding around lots of important historical references. Now it's matured, become refined and is far better informed."
In July, Timming's colourful abstract piece I'm Angry was awarded Merit in the Digital Media category of the Voice Youth Art Project exhibition held at Ara's Timaru campus, and organised by YMCA South & Mid Canterbury and WAVE (Well-being and Vitality in Education).
While he's always been passionate about art Timming's says at high school he was discouraged and eventually prevented from taking art-related subjects due to his visual impairment.
Undeterred, after finishing school he explored the option of digital design at Ara. "My eyesight dictated that it was a method I could use, due to the ability to work up close and zoom in on the computer screen," he says.
Timmings says he didn't need extra tools or resources to succeed in his studies at Ara. "But what my tutors did do was to be understanding and allow me extensions where my sight significantly impacted on my ability to meet a tight deadline."
He adds that the theory part of the course was "hugely challenging" for him and he initially resisted it. His tutors spent a lot of time supporting him through those moments, for which he's grateful.
"That level of support was new to me," he says. "It certainly wasn't something I was offered in high school."
Timming's continues to create eye-catching digital media that can be viewed on his artist Instagram page: https://www.instagram.com/hayden_timmings/