Surreal FESTA installation produced by Ara
A surrealist reality T.V set reminiscent of the 1950s, complete with giant retro stovetop and an absurdly humongous coffee pot, will set the stage for an unforgettable culinary performance experience at Ara's 'Demonstration Station' for the Festival of Transitional Architecture (FESTA).
The imaginative installation will open to the public on Saturday 20 October at FESTA! the headline event of the festival which takes place in Christchurch this Labour Weekend from 19-22 October.
Team work makes the dream work
Three Bachelor of Architectural Studies students Kira Xu, Armani Adam, and Jackson Warren, along with tutor Kerry Mulligan, make up the tiny but determined Ara studio team who have designed and built this set.
"I think it's going to be outstanding once we see it complete, but it's a lot of work for a team of three to put together," Warren says.
With FESTA just around the corner it's crunch time for the team who have been working hard on this for over two months.
Inspiration behind the surreal design
The students designed the concept with input from activation partner Aubrey Baldwin, a local performance artist who will activate the set with her colourful alter ego Tawdry Trainwreck to host a series of cooking demonstrations from local food producers.
"This year FESTA is all about food in the city, with a focus on sustainability," Mulligan says. "Audrey is quite a flamboyant personality and she's quite confrontational about food… she's licked her way out of a candy bubble, and has taken milk baths. She really tries to get people to think about what it is that we're consuming."
The challenge for the students was taking this inspiration and building it into something that was fit for FESTA.
"We based our concept on the ideas of Alice in Wonderland, the circus, and Charlie in the Chocolate Factory," Armani says. "Initially we used architecture software to create concepts, and then by creating prototypes we realised what could and couldn't work."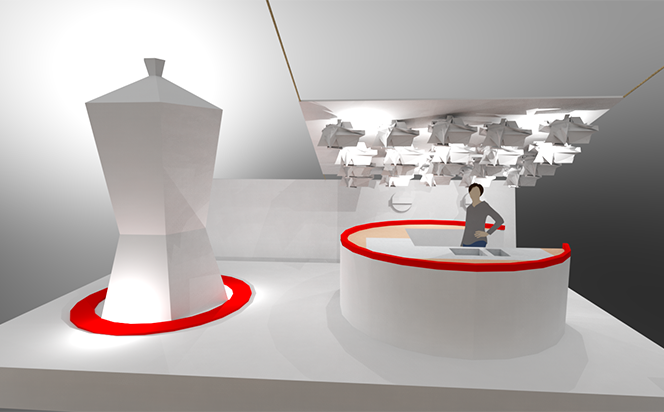 A concept drawing of the Demonstration Station
Giving materials a second life
The team also had to incorporate FESTA's criteria for this year that 80% of materials used had to be recycled. Throughout the project the students have focused on finding used materials and giving them a second life.
"The students have collected milk bottles from cafes on campus and in the city, they're building the stage floor out of a used billboard, the coffee pot has been made from old tents, cardboard tubes and corflute, and they've built a rain cover made from donated fabric, which looks like fluffy steam emerging from the coffee pot," Mulligan says.
The team were also donated some materials by local recycling centres Creative Junk and Restore.
A chance to make their designs reality
For the students the chance to bring their designs into reality is a highlight of the process.
"In class we get to design projects, but we never get consent to build them- I mean we're still students! This gives us that small piece of freedom and a sense of accomplishment." Warren says.
Mulligan says she is impressed with the determination of the three students who chose FESTA as the special topic for their studies. "It's a steep learning curve and they can't stop. If something doesn't work, well never mind, let's push through it."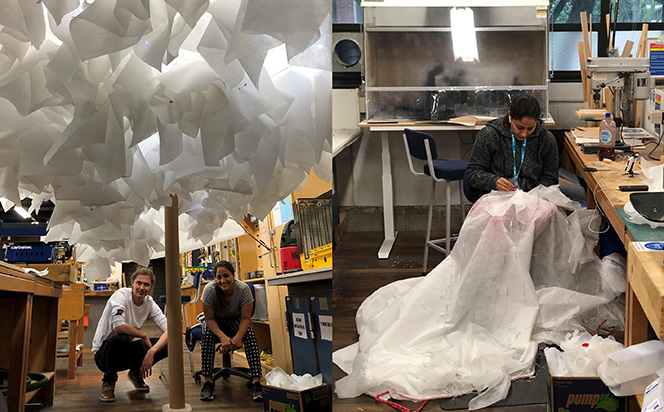 Jackson Warren and Armani Adam underneath the whimsical rain cover + Armani in construction mode
Ara has been involved in creating installations for every FESTA, with the most recent festival in 2016 attracting 16,000 people. The 2018 FESTA programme comprises 55 exciting events, and installations created by over 130 design and architecture students from across New Zealand and Australia, with Ara being the only contributing polytechnic institute.
FESTA was created in 2012 in response to the changed post-earthquake environment in Christchurch. It aimed to activate city spaces and draw people into the city centre with installations, entertainment, art exhibitions, hands-on workshops, sustainability events and more.
• Find out more about the full FESTA programme
• Headline event FEASTA on Saturday 20 October