Students bust social taboo, one cup at a time
#breakthebloodytaboo
Two Ara students brave enough to tackle a social taboo for their sustainability action project have been amazed by the success of their venture.
Their project aimed to increase discussion of menstruation costs to women and to the environment, and to make menstrual cups available to students for just $15. Under the banner "Break the bloody taboo", Bachelor of Sustainability and Outdoor Education students Briar Inwood and Isla Kennedy took to social media and held sessions in the Rakaia Centre, City Campus Christchurch, to educate women (and men) about My Cup menstrual cups.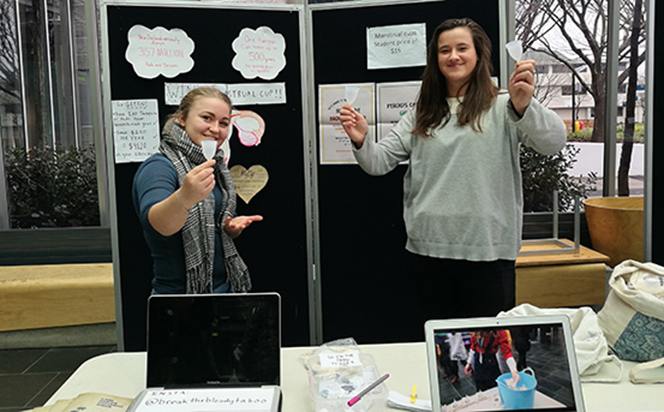 Isla Kennedy (L) and Briar Inwood, talking about menstrual cups in the Rakaia Centre at Ara to raise awareness of the economic and environmental benefits.
"Every Wednesday in the Rakaia Centre during May, we'd play games with people," Isla explains. "They would come over thinking there was some free stuff, then they would get pulled in and they would actually be interested.
"We got them running down the atrium doing an 'egg and spoon' race, holding a cup by the stem, which is a bit wobbly, with a ping pong ball inside it. We also drew an entire reproductive system and asked people to pin the cup on the vagina, which was a good one as well. We gave cups away as prizes."
There was a serious side to the fun. Menstrual cups can be used in place of feminine hygiene products such as tampon and pads, but as the cups are reusable, they have far less impact on the environment and can save women hundreds of dollars a year.
Isla and Briar had to overcome their own barriers to go public about using menstrual cups. "Through this project Briar and I have become more confident… well Briar still goes a bit pink sometimes, but I will just put 'vagina' into a normal conversation now. It is a bit weird for people at first but once you put vagina into the conversation it starts to become more normal."
Starting off with 66 My Cup products to sell - 33 funded by the Ara Foundation, and 33 matched by My Cup NZ – the project went so well that the first batch soon sold out and another 66 cups were ordered.
"I didn't expect the first lot to go as fast as it did. We tried to make the project not just about that; our mission was to break the taboo and selling the cups was just a way to do that."
Isla noticed attitudes shifting during the project. "The boys in our flat are so knowledgeable now and apparently they have been talking to some of the first year students about the cups." Yet some people, including women, were not ready to 'break the bloody taboo'.
"We got some backlash with posters we put up in bathrooms on campus, like 'ew, what is this?' Just shaming. People are either open to it or not, but when you become passionate about it, you get frustrated when women don't want to talk about it. I mean they have to deal with menstruation every month for most of their lives!"
The project has wound down for now, but Isla and Briar are still on Instagram and available to talk about My Cups.
"The project will stay set up with the opportunity for expansion as we have a 2nd year student willing to be its voice next year. Our hope is that there will not be a taboo in the years to come and menstrual cups will become the new norm."
Check out: Sustainability and outdoor education at Ara