New barbering qualification cuts above expectations
Shaving balloons, getting covered in shaving cream and having meaningful conversations with a mannequin head is probably not what you'd expect when you sign up for the Certificate in Barber Skills at Ara.
The New Zealand Certificate in Barber skills (Level 3) is offered for the first time this year in the newly set up salon at Paxus House and it has already proven to be a great success.
Manager for Hairdressing, Beauty Therapy, Travel & Tourism Mandy Gould said even though barbering is 'fashionable' and 'so very today' she was anticipating reasonably small numbers of applicants in the first year because it takes a while to build a programme profile.
But instead there are now 24 full time students who are learning barbering skills at the new High Street salon.
Paul Skidmore has been a barbering and hairdressing tutor at Ara for the last two years and he is excited to give the students a hands-on learning experience.
"The first semester is all about basic barbering skills, consultation and how a barber shop operates. During the second part of the course we aim to polish up those skills and teach the art of shaving as well as all the other glamourous sides of barbering that everyone wants to do."
Gould adds that an important part of the course is the work integrated learning component for barbering students.
"Students enter into an agreement with Ara and a salon owner to go out and gain relevant experience in the 'real world'. Or they can stay at Ara and gain those skills at our salon that emulates the industry."
The barbering salon is one of three hairdressing salons at Ara and fronts busy High Street in Christchurch's CBD. It was set up with new barbering chairs and the poles outside were painted with the characteristic barber-coloured candy cane pattern.
One topic that surprised students to come up during class was men's mental health. Skidmore has been working on strategies to address issues during his time in the industry for years. And he is happy to start sharing them with his barbering students now.
"Excellent communication skills are a big part of the barber culture. Once men realise that we are there to listen and not to judge they tend to talk more freely."
As part of their course fees students get supplied with a kit that they can take home. That includes their apron, a mannequin head, scissors and online tutorials and videos for their self-directed learning.
Gould said she would like to see all 24 students in full time employment by the time the course finishes in a year's time.
"It is a priority for us to build on our existing relationships with stakeholders and create new ones through this first cluster of barbering students. We already have a number of salons who contact us about our graduates. We do have a good reputation in the Canterbury and wider Canterbury region."
Barbering students offer their skills for free to support a good cause
Over the past few weeks the barbering students have had a number of opportunities to show off their newly learned skills for good causes:
Their first public event was held at the High Street salon to raise funds for the victims of the Christchurch mosque shooting. The barbering and hairdressing students worked together, served more than 100 customers and raised over $900. All profits were donated to the official Give a little page.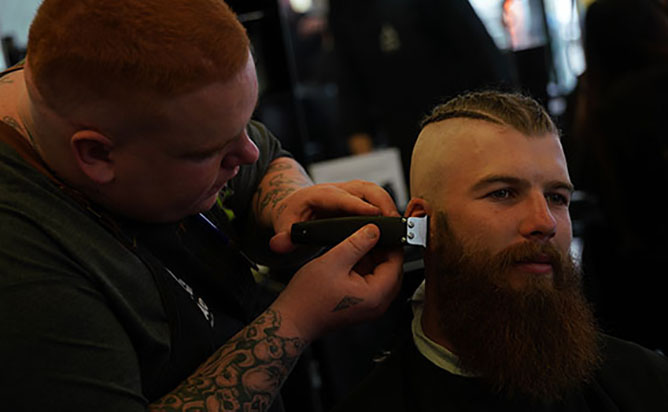 A barbering student is practicing his new skills while raising funds for the Christchurch shooting victims.
A second, hands on learning event was held at the Ara Trades Campus in Woolston: Over three days all 24 barbering students were given the opportunity to put their newly learnt skills to the test and offer free services to the trades students. The barbering students demonstrated their abilities including skin fades, beard shaping, and scissor and clipper over comb. They also offered styling advice to those who wanted direction on their personal look.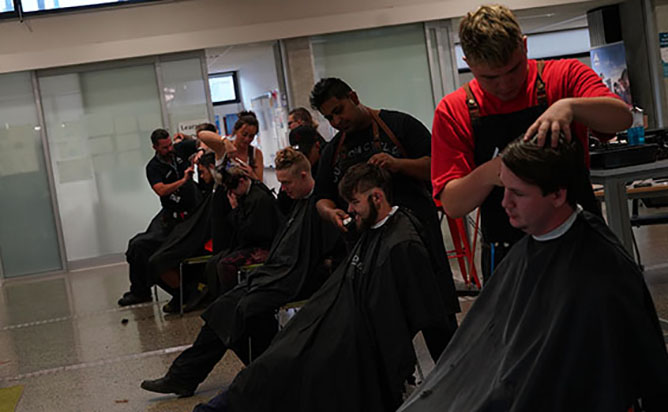 The barbering students are getting some real life experience and treating the Trades students to hair cuts.