A small group of staff at Ara Institute's Timaru campus has been working on a charitable – and therapeutic - collective knitting project since November last year.
The group's completed approximately 30 'peggy squares' – little bite-sized woolly pieces that ultimately join together to form a cosy blanket.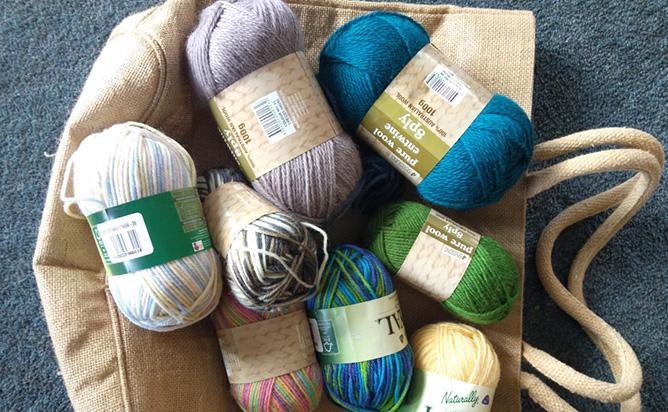 Sandra Black, an Enterprise and Digital Innovation (EDI) tutor, originally conceived the knitting as a way to get a "brain break" during the traditionally-stressful end-of-year period. So during tea and lunch breaks this group could be seen wielding their needles together in the staffroom. From this laughter-filled activity came the further idea that if enough squares were created, the resulting blanket could be donated to charity.
Sandra goes on to say "I had a lightbulb moment and realised that perhaps others would enjoy taking some time out and even learning a new skill. I placed a bag of wool and a couple of sets of needles in the staffroom with a note on it encouraging people to have a go and also to donate wool to the cause if they had any spare. The response has been fabulous, and we've now got added spice of some healthy competition over who can create the most squares."
Sandra's fellow EDI tutor Joanne Fraser also deserves some of the credit. As one of the group's greatest supporters and "moderators", Joanne took some needles and wool home over the lockdown period to keep production going. Sandra says that Joanne was a great one for "keeping the banter going (and practiced her Te Reo) while we are in lockdown through email – all thoroughly appreciated for the smiles it's brought out."
Sandra laughs "The next "challenge" will be reaching an agreement about how the squares are arranged in the final product – I am sure this will prompt another round of laughter and robust discussion."
The group is always open to new members and contributors – if you have some scraps of wool and would like to join the cause, follow these instructions to start knitting some squares for a worthy cause:
Using 4mm (Old size 8) needles, cast on 40 stitches
Knit in plain (garter stitch) for approximately 74 rows (19cm)
Cast off
There are also plenty of knitting tutorials online.