Graduate's change of heart – engineering a new course
Changing the world one tee at a time
Progressing to the Bachelor of Engineering Technology (Civil) in 2016, life intervened to change his course before he qualified this year. While studying, Kumar began running his own social enterprise, Style Dux, and is determined to create positive change in mental health, suicide prevention and child poverty - one tee at a time.
Style Dux, which gives 80% of profits from screen-printed T-shirts to nominated charities, was founded after Kumar first personally encountered the debilitating effects of depression.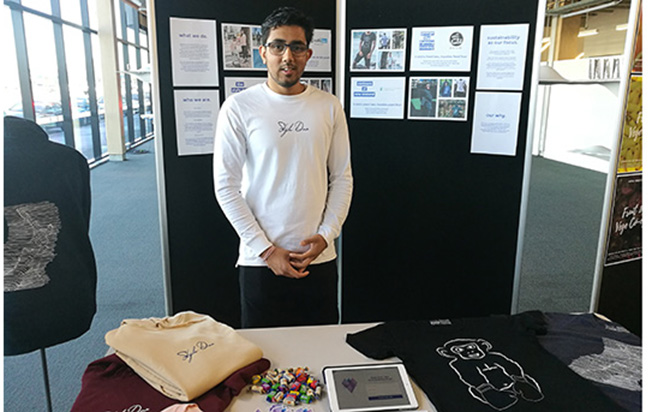 Kaushik Kumar, founder of Style Dux at the recent Ara Green Campus Day.
Raised in Fiji, before his family moved to Aotearoa when he was aged nine, Kumar was unaware of how pervasive depression was in this country until he met someone special.
Depression becomes personal
"I personally grew up very distant from mental illness, in fact I grew up not knowing how badly it could affect someone," he says.
"During the second year of my studies, I met my now fiancé. Little did I know, she suffered from crippling depression and anxiety. It took her a lot of courage to open up to me about her problem but when she did, that burden was lifted off her shoulders. This is when I realised the importance of conversation for those suffering through mental health issues. This is what fundamentally planted the seed for Style Dux."
Kumar launched Style Dux in January this year and recently received a boost with an Entre business development award.
Enter George the Fighting Monkey
The mission is clear. "We create clothing that is designed to inspire conversations. Each design has a specific charity, cause and message associated with it. For example, our George the Fighting Monkey design is associated with Eat My Lunch, to feed kids in poverty. The message, this design, is a symbol that represents all those children fighting hunger."
Style Dux launched with Fill their Lunchbox and Department of Conservation as charity partners and have since partnered with Youthline, Lifeline Aotearoa and Eat My Lunch, along with special edition tees for Ministry of Awesome and Christ's College events.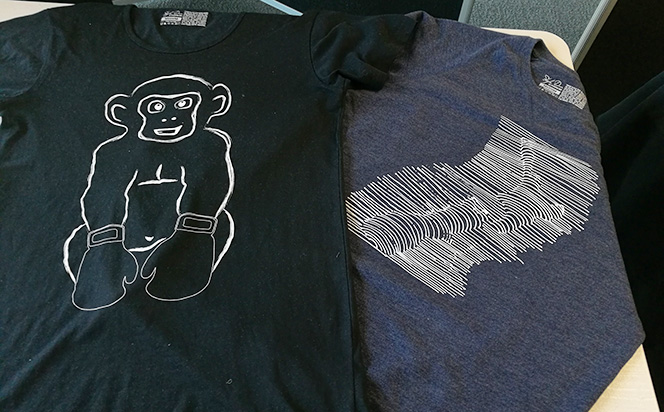 George the Fighting Monkey design represents children fighting hunger.
"Style Dux does away with the traditional form of donations and introduces a system where a customer's purchase has a direct impact on people and helps charities fundraise at the same time," Kumar says.
And those engineering skills? They are being put to good use. "Engineering taught me a lot about time management and dedication to see things through but most importantly that 'done' is always better than 'perfect'."
This is just the beginning…
With 168 items of Style Dux apparel sold, contributing $283 to the charities supported, Kumar recognises that Style Dux is still in its infancy, but also believes that every tee sold makes a contribution. "Putting this in perspective, we've planted eight trees, provided lunches to 15 kids and funded approximately eight calls with Youthline.
"We've selling and we're seeing a consistent growth in our sales each month. This is just the beginning."