Far away dreams become reality
The question "What do you want to do in your life?" sparks a common answer amongst Kiwis: Travel.
But only a few make the decision to turn their passion to see the world and share their experiences into a career.
This year marks the eighth annual Travel Education Expo at Ara which gives students the opportunity to show off what they have learned gaining their Certificate in Travel and Tourism Level 3 and 4.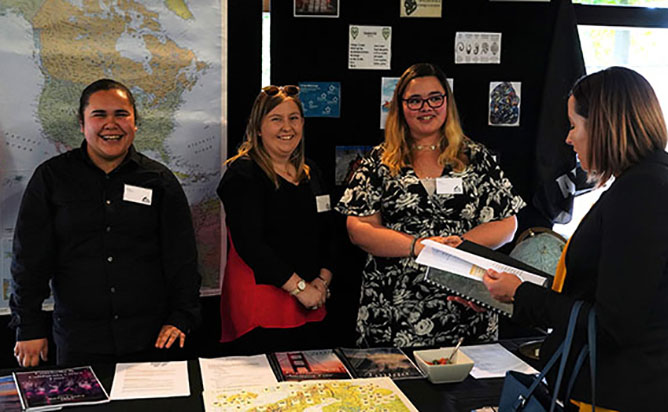 Certificate in Travel and Tourism Level 3 and 4 students are displaying their work at the Travel Education Expo.
With shiny brochures on display and boards and tables decorated to mimic eight individual travel agencies, 22 excited students were waiting patiently for tourism industry professionals to take a look at their stalls, exchange their knowledge and maybe even get invited to a job interview.
Katrina Picillo, Acting Manager for Hairdressing, Beauty Therapy and Travel & Tourism, said students explore a number of avenues within the sector by experiencing and studying not only with Ara's highly trained team of tutors but also through direct links to industry.
"It is a pleasure to work in the Travel and Tourism portfolio here at Ara and it is a fantastic place for our students to learn in one of the most visited countries in the world.
"We can't do this alone and really appreciate all the help that industry provides to us. Working together collaboratively and having a close relationship with industry is something that we will continue to grow in the future," said Picillo.
Tuarae Maraiauria is an international student from Tahiti who was awarded a scholarship to come to New Zealand and study at Ara.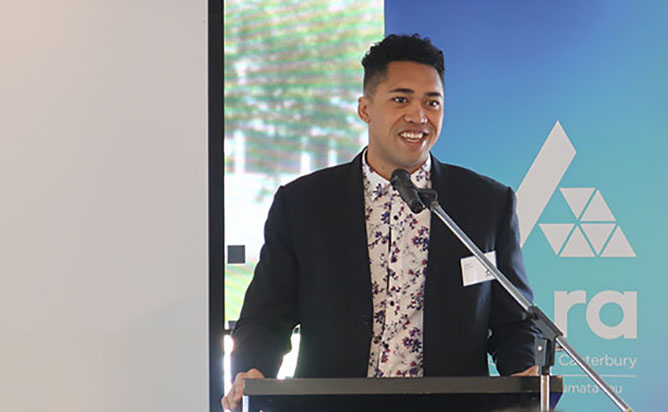 Tuarae Maraiauria shares his experience at Ara with the other students and industry professionals.
"At home I worked as a tour guide from a young age. I showed foreigners around. Showed them the ocean and the valley around my home. I enjoy sharing my culture with others as much as I can.
"Resulting from these experiences, travel was something I've always wanted to do but my financial situation didn't allow me to go too far. Fortunately I was able to get a scholarship to come here to Ara."
Maraiauria says studying Certificate in Travel and Tourism Level 3 and 4 has been a great experience and rewarding on several levels.
"It was difficult for me to leave my country behind. But I do enjoy my life here with new friends and great classmates and tutors.
"The Travel and Tourism course was an amazing experience for me. It improved my English and made me more confident. It also allowed me to explore a lot of places around NZ: from the Antarctic Centre in Christchurch, to Akaroa and recently Rotorua," said Maraiauria.
He is planning to continue his studies and in the short term he sees himself working as a receptionist in a hotel or as a tour guide again.
His future dreams are big though and he is continuing to pursue his dream to return to Tahiti to open his own eco-hotel.
Here are some photos of the expo and stalls the students created: