Enrolled nursing training to roll out regionally in 2019
In 2019 Ara will roll out regional delivery of the New Zealand Diploma of Enrolled Nursing to West Coast, Timaru, Ashburton, Oamaru, Nelson and Marlborough-based students in partnership with regional district health boards (DHBs).
The Enrolled Nursing programme is approved by the Nursing Council New Zealand to enable leaners to access a nursing qualification that prepares them for practice under the direction of a registered nurse.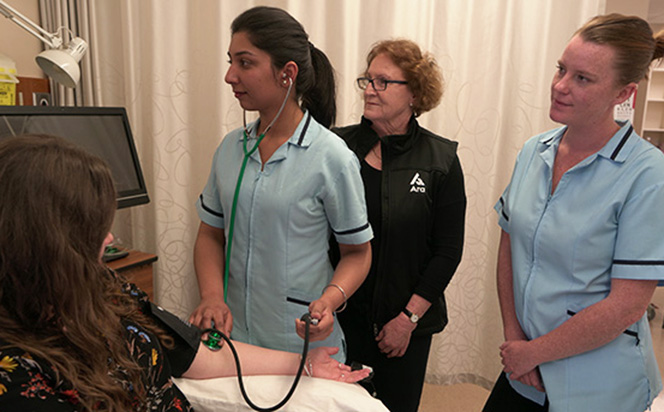 Current enrolled nursing students Rupi Dhesi (L) and Jade Craw practice their skills in a simulated clinical situation under the supervision of Programme Leader for New Zealand Diploma in Enrolled Nursing at Ara Rose Mitchell.
"It's an 18-month course and the scope of practice is really quite broad," Rose Mitchell, Programme leader for New Zealand Diploma in Enrolled Nursing at Ara says. "Our graduates can work in hospital settings, community and residential care, so technically they can work in any area of health."
Students can now also study in their own region, due to collaboration between Ara and local DHBs, which guarantees students six different types of placements and will enable them to gain a broad understanding of nursing practice.
"The regional delivery model has been well planned to give students the best chance of success. Right at the beginning of the course the regional students will get to know each other and the Christchurch-based students and share classes with them," Mitchell says.
Regional students will be required to come to Christchurch for the first two weeks then a further four times for one-week blocks over the 18 months. They will study online from home but complete their clinical placements locally, supported by a clinical tutor.
Working on the West Coast
Regional students are not the only winners from the new delivery model. DHBs are also looking forward to bringing more students and graduates into their health environments, says Karyn Bousfield, Director of Nursing, West Coast District Health Board.
"The West Coast has had a long standing history of utilising the enrolled nursing workforce and values the contribution enrolled nurses make to health outcomes. Working closely with Ara means that we can collectively enable a pipeline to support the development of our future enrolled nurse workforce for the West Coast."
The regional delivery sees Ara continuing to collaborate with regional stakeholders across sectors and industries to give students immersion in the environments that they will study in, work in and contribute to as graduates.
Who wants to be an Enrolled Nurse?
Jade Craw wanted to change careers to nursing but with several years of working already behind her, she didn't want to sign up for three years of full time studies. The New Zealand Diploma of Enrolled Nursing was the perfect choice.
"I chose enrolled nursing because I'm interested in nursing, and I'm 29 so I've been out of school for quite a while now," Craw says. "The eighteen-month Enrolled Nursing programme was a really great choice for me."
Now well into the programme, Craw is enjoying the practical nature of the programme and in particular the placements. "It's been a really good experience. I look back at myself on that first day thinking 'Oh my gosh, how am I ever going to make it through this' and now we're almost half way! It's a really good environment and the students are very supportive of each other. The tutors are there too and you can always go and knock on their door – they've been really helpful, especially if you have any concerns or problems."
"I've done placements in aged care, dementia and in community settings. The clinical practise for me is where it all came together. That's definitely been a highlight for me."
"Going to Ashburton and doing my community placement was the best bit. Actually getting out and meeting people in their homes was fantastic."
Craw also appreciates the variety of students in her class. "I was actually really surprised at the range of people in the class, people from age eighteen to those in their fifties. There's a broad range of life experience in our class."
Enrolled nursing was also the best choice for Indian student Rupi Dhesi. "Our lecturers are amazing and very supportive," she says. "I loved working in the operating theatre [endoscopy], and I've had a really good exposure to that while in this course.