Digging into chocolate cake
A little yellow digger, sitting on chocolaty goodness of sprinkles, Maltesers and chocolate fingers teased the judges' sweet tooth at this year's Edible Book competition and took out the 'best in show' prize.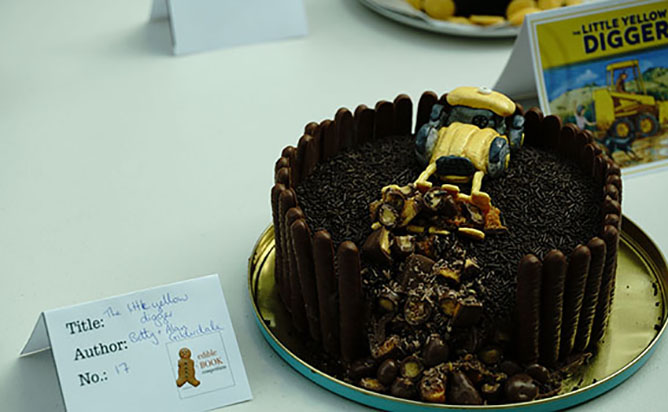 The 'little yellow digger'-cake was the judges' overall favourite.
Edible Books is one of the favourite competitions at Ara. For the 6th year, students and staff were invited to showcase their baking skills and enter their personal, fun, cheeky or even very literal interpretation of a book title.
While cake is the preferred entry method (because who doesn't want to eat a piece of the winning cake?) previous years have proven that extensive kitchen and baking skills are not essential. The only requirement of the competition is that the entry is partially edible.
First time participant Sherelle King looked for inspiration in children's books and came up with not only one but two creations. Her 'little yellow digger' (book written by Betty and Alan Gilderdale), the overall favourite, was sitting on a chocolate velvet cake and her frog on a log (a chocolate swiss roll based on the book 'Oi frog' by Kes Gray and Jim Field) was one of the first cakes that disappeared into the hungry mouths of onlooking students.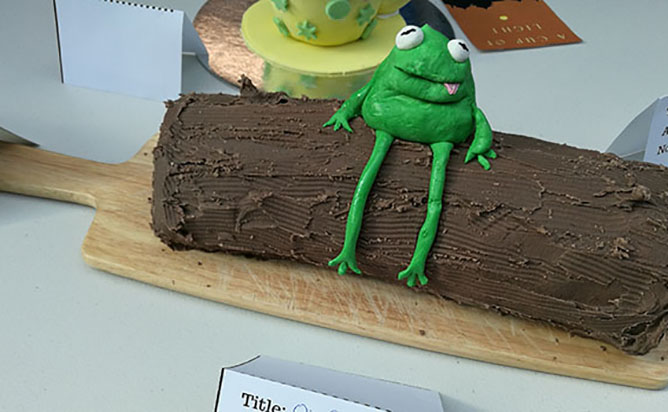 The frog on a chocolate Swiss sponge cake was a crowd favourite.
"I have never worked with fondant before. I bake a lot but usually without so much detail on top of my cakes," said King.
"The digger took the longest to make, I think it was almost two hours until I got it right. There were so many little details and I had to mix the food colours together to get the right shades. Afterwards my hands were stained for quite some time."
The judges, author Joe Bennett, journalist Mary Lovell Smith, Ara's Head of Department Art and Design, Bruce Russell and Ara's Deputy Chief Executive for Customer Experience and Engagement, Tracey Berry, awarded prizes in the categories best in show, most imaginative, most delectable, best interpretation of a book and funniest. Each judge was allocated one category and the overall winner was jointly decided.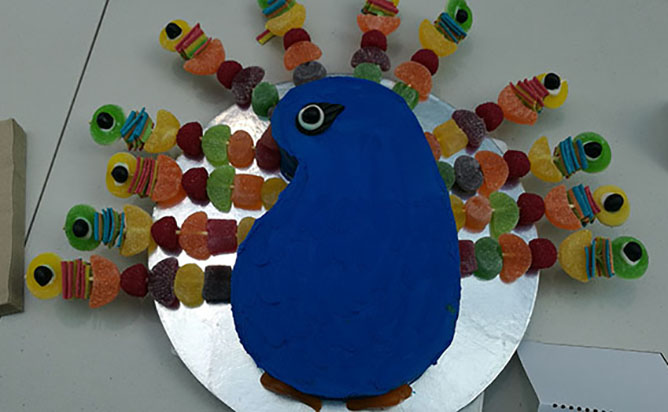 The peacock's feathers tasted as good as they look.
"My personal favourite was the peacock cake* which won the 'most delectable' prize," said Berry.
"Of course I had to try one of the 'feathers' and I have to say the prize was awarded for a good reason. I think it's great that all different categories have different winners."
There was also a people's choice award which went to a very realistic looking mini-Einstein who was taking a walk on the moon (Moonwalking with Einstein by Joshua Foer).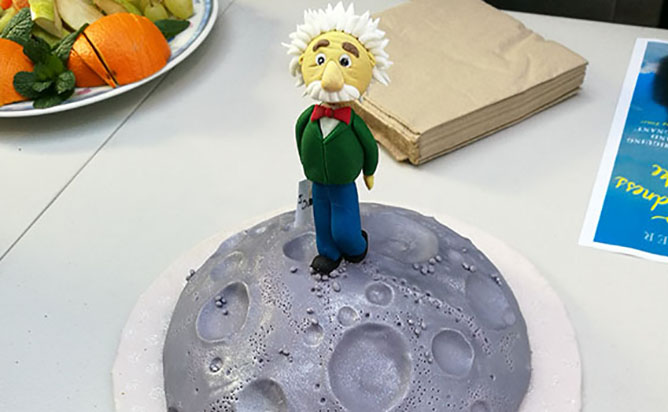 This amazing little Einstein taking a stroll on the moon won the people's choice award.
As every year, the competition is not only enjoyed by the bakers and creators of these delicious masterpieces but also by the spectators who were able to indulge in the cakes once the judging was done (a note for future competitors: sweet seems to trump savoury).
If you want to see all of this year's fantastic creations, click here to see them on the Ara Facebook page.
*based on the book Feathers for Peacock by Jacqueline Jules