Collaborative creativity inspires future vision
It is a collaboration that started with story telling, involved creativity and imagination and will lead to something that Ara's architectural studies students will be proud of.
During the fourth Design Jam, Ara students had input into the redesign of a major City Campus building and how it could look like in the future.
Te Puna Wānaka, Ara's centre for Māori and Pasifika engagement, will celebrate its 25th anniversary in 2020 and ahead of the celebrations a refurbishment is planned over the upcoming summer months.
The purpose for this year's Design Jam was to get the students to come up with ideas and suggestions that can be incorporated into the refurbishment. They were encouraged to draw their visions and interpret the stories they have heard about the building from Te Puna Wānaka staff, the wider Māori community and key stakeholders.
The Design Jam is an annual event, organised by Ara's architecture tutor Bernadette Muir, and aims to teach them about the Living Building challenge as well as offer an opportunity for all architectural studies students, from first to third year, to work together and co-design.
"This year's Design Jam was a little bit different. As in previous years it focused on the Living Building Challenge which encourages students to think about how to design buildings sustainably and how to put people and communities at the heart of building projects. But this year we were invited to use one of Ara's campus buildings as a project. Our students tried to imagine what the building could look like for the next 25 years," said Muir.
Alongside all the students and their tutors, a group from Lincoln University's School of Landscape Architecture also collaborated on this project. Inviting Lincoln University is part of a partnership that started earlier this year when Ara students were asked to join them on another project.
The original architect, Perry Royal, also participated in the Design Jam to give an insight into his thinking from 25 years ago as well as his vision for the refurbishment.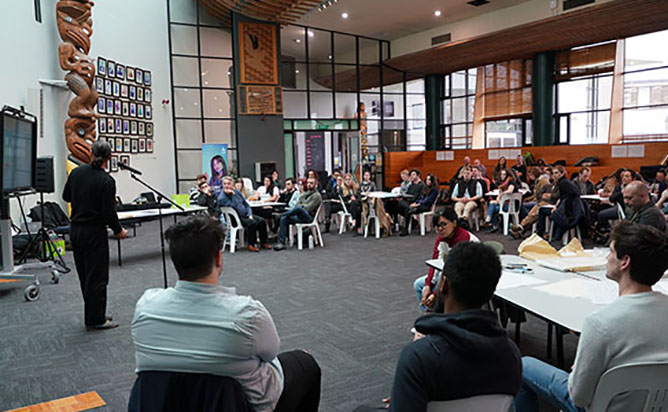 Perry Royal, original architect of Te Puna Wanaka, shares his vision with the students.
Muir said it was special for the students not only to find out what he was considering when he initially designed the building but that he also shared his concepts for the refurbishment.
The students' creations included better indoor-outdoor flow, adding small touches to make the building more sustainable as well as incorporating parts of the stories they heard in drawings and carvings.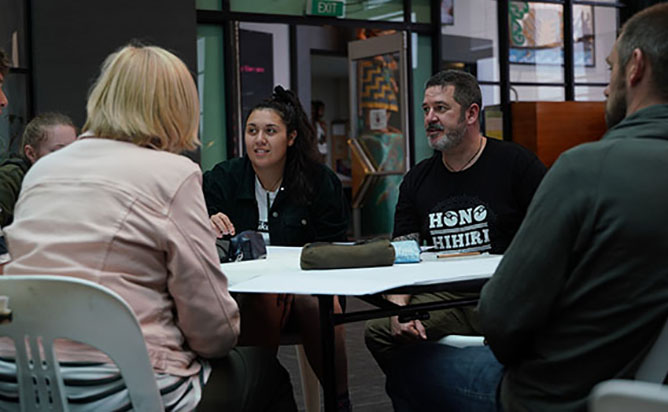 Students, tutors and Te Puna Wanaka staff worked together to develop ideas and sketches what Te Puna Wanaka could look like in the future.
Mia Hopping's group concentrated their visions around small modifications.
"My group talked about little alterations such as lighting and sounds to get the building more in flow with nature. It's less about modernising it and more about stripping it back to what it once was and finding the real meaning of the building."
Friederike Kircher's group had a different focus for Te Puna Wanaka.
"The big focus of our group was plant life and how to re-introduce nature and use nature as a connector between the people and the building. We used that as a transitional pathway, literally as well as symbolically between the city, the campus and Te Puna Wanaka.
"I am enthusiastic about the social side of architecture and how to connect buildings with people as well as how you make the buildings inviting and fit for purpose for the people who are using them," said Kircher.
The students' ideas, sketches and drawings were given to the architect for him to consider.