Christchurch's first Pan-Pacific Early childhood Centre recognises advisor
Reverend Fitifiti Luatua, Student Advisor and Pasifika Community Relations (Fautua ma So'oupu) at Ara, was formally recognised for his role in helping to establish the first Pan-Pasifika Early Childhood Centre in Hornby, Christchurch, on 14 September 2018.
The Ministry of Education appointed Luatua to the Pasifika Advisory Group of the centre in 2015, recognising his engagement with the Pasifika community through his 18 years of church ministry and his work with the Ara Pasifika Trades programme at Woolston and other programmes at Ara.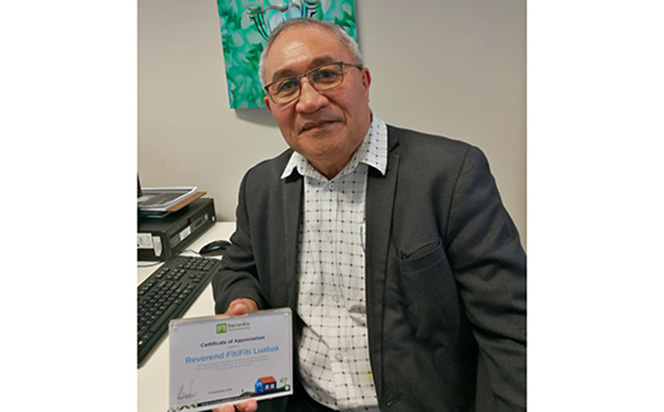 Reverend Fitifiti Lautau with a Certificate of Appreciation for his work on Christchurch's first Pan-Pacific early childhood center in Hornby.
Working in tertiary education, Luatua recognises that the path to success starts early in life. "Yes even from early childhood if they have that engagement with tertiary they can see it is a pathway into the future. Early childhood I would call the most difficult area, however if you build a good foundation of learning for our children right from early childhood then they will progress well into the other levels.
"As community church leaders we believe that is where we teach our language, talk about our cultures and we learn about our values, then it continues on from there into primary and secondary school and further into tertiary education."
As part of community engagement, Luatua brought Ara civil skills students to construct landscaping and sandpits - which added much needed beauty, benefited the centre and gave students real world experience. The efforts and the valuable contribution of the students was very much appreciated by the community, parents, teachers and children.
Building started in April 2016 and the centre was opened on 20 March 2017, run by Barnardos and licensed for 47 children, 10 of which are up to two year olds.
From earthquakes to trades to wider opportunities
Luatua joined Ara as a representative of the Samoan church ministers fraternal after the 2011 earthquakes to help launch the new Pasifika Trades Training programme. Since then he has seen many Pasifika men and women become qualified through the programme and go on to careers in trades. He has also seen the programme expand beyond trades to information technology, quantity surveying, engineering, nursing and cookery.
"It started from the trades, that's the first engagement of the wider Pasifika community with Ara. Now there are other opportunities that have opened up from there."
Ara launched a Pasifika Strategy in June 2017 to focus on the factors that enable Pasifika students to succeed in tertiary studies and address the gap between Pasifika and mainstream achievement in terms of course completion across all subject areas. The vision of the Ara Pasifika Strategy is, "In partnership with Pasifika communities, Ara provides education that enhances the employment of Pasifika peoples."
The strategy states the importance of engaging with families and communities as central to individuals' success. Gaining the trust of the Pasifika community by showing respect for the diverse identity, language and culture of Pasifika peoples is one of the principles.