Celebrating Māori and Pacific Success at Ara's Eke Panuku Awards
Eke Panuku – which means "to achieve with distinction" in Māori – is an annual event that celebrates Ara Māori and Pacific students who have been recognised for their academic progression and commitment to community.
Due to COVID guidelines this year's annual Māori and Pacific student success awards, was a bit different than normal, being online instead of in person.
2021's event was designed by the Eke Panuku organising party with support from the Ara Foundation and included a video presentation of awards (view this here), some inspiring messages from previous recipients and bespoke celebration boxes which were delivered to recipients homes. The judging panel were impressed by the calibre of over 80 nominations this year received across a variety of levels and departments within Ara.
Tate Tiatia, a main organiser of the event said, "After careful consideration the working party were certain that there was no way that this event was going to be cancelled, and therefore a lot of planning and design went into ensuring that a virtual presentation would be created so that our learners were recognised formally despite COVID-19 restrictions. Year-on-year our event has grown in attendance and we were pleased to be able to share this with an even wider audience through the digital tools available to us."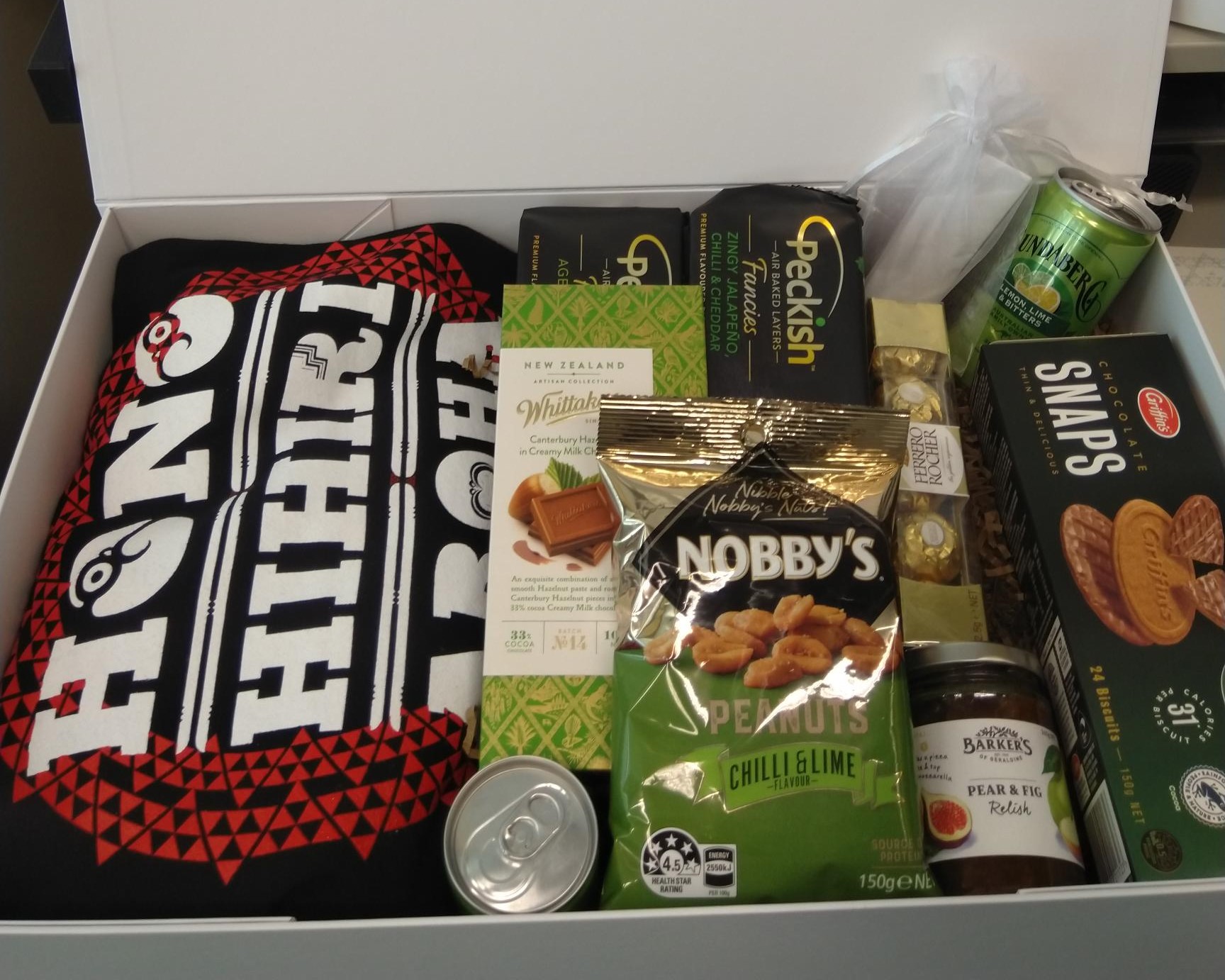 One of the celebration boxes delivered to recipients
"The panel received over 80 nominations and are proud of the accomplishments of our learners, particularly those who overcame extraordinary challenges. All of our recipients received an extra special celebration box to share with their whānau, along with specially selected taonga and trophies for each category."
Eke Panuku awards list:
Supreme Awards
Pathways to Treasures Supreme Award - Pacific
Winner: Jahan Miller: Business and Digital Technologies
Finalists:
Simione Tagicakibau
Naomi Williams
Candice Aualiitia
Monte Ohia Supreme Award – Māori
Winner: Raelyn Kamo: Hospitality and Service Industries
Finalists:
Foundation Level 2 – Recipients
Māori Award
Brooklyn Heather: Trades
Foundation Level 3 – Recipients
Pacific Awards
Elisara Vaifale: Trades
Mese Fuaava: Humanities
Vinimua Pauga: Trades
Naita Fifita: Trades
Māori Awards
Lea Tahapehi: Trades
Jordyn Keys: Humanities
Janine Poharama: Trades
Jade Chase: Trades
Foundation Level 4 – Recipients
Pacific Awards
Uaniva Tauveli: Applied Sciences and Social Practice
Lolesio Falefou: Applied Sciences and Social Practice
Evone Siufanga: Applied Sciences and Social Practice
Elenoa Paasi: Applied Sciences and Social Practice
Māori Awards
Ruka Walker: Hospitality and Service Industries
Kim Nolan: Applied Sciences and Social Practice
Adam Hudson: Trades
Connor Wilson: Applied Sciences and Social Practice
Diploma and Degree Level 5-7 – Recipients
Pacific Awards
Max Silva: Creative Industries
Renee Makea: Engineering & Architectural Studies
Candice Aualiitia: Applied Sciences and Social Practice
Viliami Kaetau: Hospitality and Service Industries
Simione Tagicakibau: Health Practice
Bryden Joe: Business and Digital Technologies
Māori Awards
Eruera Poi: Creative Industries
Marge Carran: Applied Sciences and Social Practice
Raelyn Kamo: Hospitality and Service Industries
Iwitea Ataria-Ivannikova: Health Practice
Michael Ellis: Business and Digital Technologies
Postgraduate Awards Level 8-9 - Recipients
Sarah Morley: Health Practice
Joseph Clarke: Creative Industries