Autonomous vehicle wins Industry Choice Award at Ara's Engineering Showcase
What do an autonomous vehicle, an aerodynamic modified race car and a soil test using drilling rigs have in common?
They are all student projects, which won awards at the Engineering Showcase, held at Ara Institute of Canterbury last night.
The annual Ara Engineering Showcase celebrates the final-year Bachelor of Engineering Technology students' capstone projects. Each student is required to dedicate up to 300 hours to tackling a real world problem and solving it to the best of their ability, often alongside an industry sponsor.
At the event, members of industry voted on their favourite project for the Industry Choice Award, and awards were also given to the top project for each of the three Bachelor of Engineering Technology disciplines: civil engineering, electrical engineering and mechanical engineering.
The Industry Choice winner, and winner of the Best Electrical Engineering Project, was Ray Jenkins who enrolled to study the Bachelor of Engineering Technology following a 16-year career as an electrician. Applying his passions for technical systems, electronic and electromechanical design, Jenkins spent 800+ hours, far exceeding tutor expectations, to build a four-wheeled direct drive vehicle named the wayfarer.
"My project is a ground-up design and build of an unmanned ground vehicle that will provide a platform for further research and design of autonomous control systems… Wayfarer is currently capable of basic autonomous navigation to find its way home, using ultrasonic sensors for object avoidance."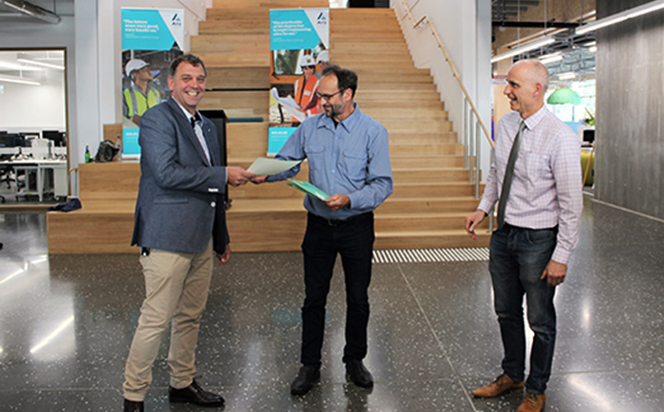 Ray Jenkins accepting his Industry Choice Award from Thomas Cronje (Project Course Coordinator) and Robert Dantzer (Manager, Engineering and CAD programmes)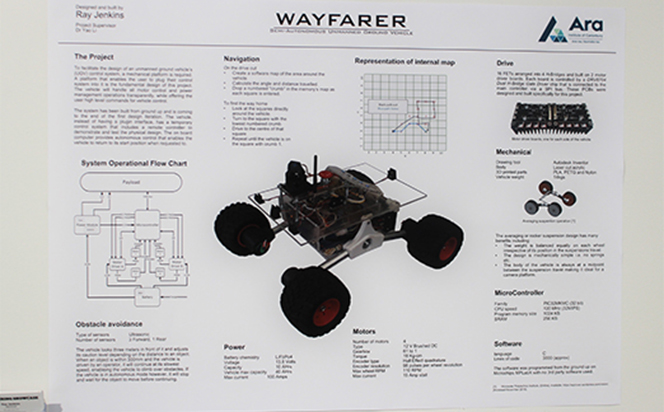 Ray's project- The Wayfarer
Tania Watkins won Best Civil Engineering Project for her work with McMillian Drilling Group, which involved extensive field-testing to investigate the impact of drilling methodology on Standard Penetration Testing (SPT) of soil. As Watkin's sponsor, McMillian invested approximately $70,000 for field experiments, which compared three different drill rigs and four drilling methodologies.
Watkins says, "I first developed an interest in engineering when I accepted a job working at for a steel manufacturer in South Australia. When I returned to live in New Zealand with my young family, I wanted to pursue a career in engineering… Looking to the future, I plan to pursue a career in project management."
The award for Best Mechanical Engineering Project went to Daniel Brown for his project Race Car Aerodynamics Optimisation, which he worked on with client Ben Coffin, from Battery Masta.
"My project is primarily based around a newly built endurance race car," Brown says. "My project is defined as design, develop and implement aerodynamic modifications onto the race car with the objective of increasing downforce and decreasing drag."
By manipulating airflow Brown was able to utilise specific design features to result in improved overall aerodynamic performance and reduced drag on the race car.
Dr Thomas Cronje, Project Course Coordinator within the Ara Department of Engineering and Architectural Studies says that the Showcase is "a springboard for our best projects and students". Since the showcases' inception two years ago, many of the students involved have gone on to win national titles- last year's Industry Choice Award winner, Dinh Van Nguyen was awarded 2018 Student Innovator of the Year from Engineering New Zealand.
Engineering Showcase award winners for 2018:
Industry choice award: Ray Jenkins- Wayfarer – Semi-autonomous Unmanned Vehicle
Best project for Civil Engineering: Tania Watkins – Investigation into the Effect of Drilling Methodology on Soil Standard Penetration Testing (SPT)
Best project for Electrical Engineering: Ray Jenkins - Wayfarer – Semi-autonomous Unmanned Vehicle
Best project for Mechanical Engineering: Daniel Brown - Race Car Aerodynamics Optimisation
The Engineering Showcase will be open to the public on 15, 19 and 20 November from 9am-4pm in Kahukura Building, Ara City Campus, Madras Street.