Ara students the first to graduate at Christchurch Town Hall
Ara graduates are going to receive their certificates in the newly renovated town hall in Christchurch this Friday.
This is the first graduation that is being held there since the earthquakes.
Amongst the 940 students who are attending the autumn graduation are the first two Ara graduates of the Bachelor of Construction.
The degree was introduced for the first time in the South Island in 2018. Students who started their Ara journey with a Diploma in Construction were able to cross-credit and finish their education with a degree.
Vincent Goh, who is one of the graduates, says he was surprised that there are only two students in this ceremony.
Goh said he decided to study quantity surveying when he realised that he could help out Christchurch after the earthquakes and be part of the rebuild. Goh is originally from Malaysia and this is his way of giving something back to the city where he has been living for the last 14 years.
Goh says that he would recommend the degree to potential students.
"Ara provides a lot of useful resources. It is also provides good opportunities for graduates: Quite often people who work in the industry come to Ara to look for new employees. The tutors tell us about these opportunities and encourage us to apply."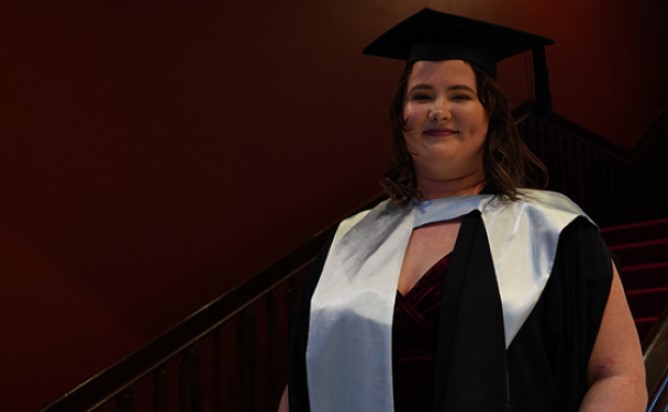 Courtney Fraser is going to speak on behalf of all graduates during the ceremonies at the Town Hall.
Student speaker Courtney Fraser, who is representing all the graduate students, agrees with Goh and speaks highly about her lecturers and tutors who offered full support during her studies.
"I will miss the guidance from my tutors and lecturers. Because that's what the tutors at Ara are – guides and really great mentors and without them I wouldn't be where I am today."
"I don't like being lectured at. But at Ara I felt like I was learning real life skills and actually practicing things while I was studying. And by the time I got my job I was ready," she says.
Fraser is an experienced speaker but has never been in front of such a big audience before. While she is not nervous about being on stage she is aware of the gravity her speech is going to have and the attention she will receive not just from fellow students but her own family.
"My speech is not just about me, it's also about all my fellow graduates. I don't want to cram as much as I can into three minutes. I want my words to have an impact."
"I want to inspire my fellow graduates. I want to tell them that after they've worked so hard and pushed themselves to their limits, the world is theirs and it's time to make their dreams come true."
The graduation ceremonies are taking place on 29 March 2019 at 11.30am and 3.30pm at the Christchurch Town Hall (86 Kilmore Street).