Ara students positioned to re-imagine the health tech sector
Ara students and colleagues are poised take part in a nationwide search to find innovative solutions to crucial health-care problems through the application of groundbreaking new technology.
The ChristchurchNZ-sponsored HealthTech Supernode Challenge, which is delivered by the Ministry of Awesome and the University of Canterbury's Centre for Entrepreneurship (with support from ChristchurchNZ, KiwiNet, and Ryman Healthcare), is open to anyone with a healthtech innovation or idea - from students and startups through to researchers and healthcare professionals.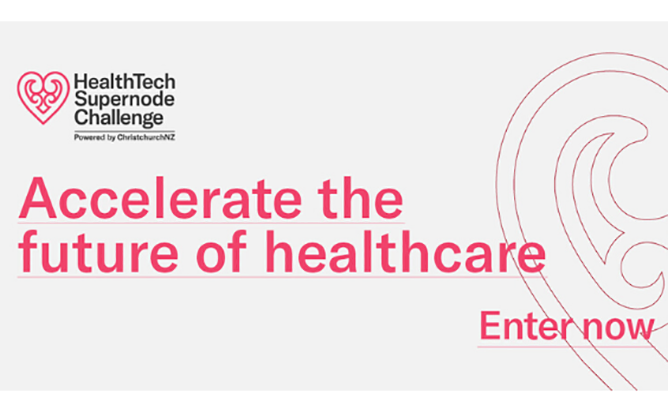 Healthtech has been identified as an important sector for future economic growth within Christchurch, building on a robust existing base, and the city is actively looking for ways to keep the momentum building with talent, business and innovation continuing to flow into the region. Accordingly, the Challenge is designed to first identify real healthcare problems, then generate commercially viable solutions that address them. The three key areas for competitive focus will be aged care, rurally-delivered care and an 'open' category to ensure no innovation is left undiscovered.
Te Ohaka, Ara's associated innovation hub, is the key to facilitating contributions from Ara students and colleagues. Ara Health Practice students and colleagues from degree programmes in midwifery, nursing and medical imaging are crucial to providing Challenge entrants with the fuel for their fire; namely, the context and insight into the problems that students from Enterprise and Digital Innovation, Applied Science & Social Practice, and Engineering & Architecture hope to solve. Ministry of Awesome, based within Te Ohaka, will be conducting - under the expert eye of start-up guru Jacob Varghese – an intensive bootcamp experience for students, which will see them joining together in teams to come up with a range of solutions that will be refined and pitched to a panel of judges.
Tracey McGill, Ara Innovation Manager says, "At Ara we value the skills of innovation and entrepreneurship. Through Te Ōhaka and our partnership with Ministry of Awesome, we now offer our learners the opportunity to be supported while they turn their ideas into a new product, create a new solution, or start-up a business. Throughout the year activities such as Bootcamps, Hackathons and Start-up Clinics are available for students, ensuring innovation and entrepreneurship are alive and well, and are a part of Ara student life.
With a total prize pool valued at over $340,000, the HealthTech Supernode Challenge is naturally attractive, but up to 20 finalists will also gain access to an intensive six-week virtual 'pre-accelerator' programme which will support teams through a market validation process that will rigorously test their idea. Teams may also attract potential startup investment, a Canterbury District Health Board validation contract, and an exclusive invitation to a further startup incubator programme.
Additionally, all Challenge finalists will receive extensive profiling across valuable new networks and exposure to one of NZ's most prolific health innovation ecosystems.
The top finalists emerging from the pre-accelerator will present to a panel of experts at a Demo Night, to be held on 22 October at Manawa, in the heart of Te Papa Hauora Christchurch Health Precinct. Judges include microbiologist and media Commentator Dr. Siouxsie Wiles and Ian Town, New Zealand's Chief Science Advisor at the Ministry of Health.
Marian Johnson, Chief Awesome Officer at Ministry of Awesome says "Ara is home to a learning community that represents a huge talent base for our region. Our mission is to develop the core skills of entrepreneurship with these students and give them the permission to dream big, be ambitious, and confidently set about achieving their goals."
True to form, in August Ara and Ministry of Awesome are bringing one-day Start-up Clinics to both Ashburton and Timaru, where business ideas, new products and other innovative ideas can be explored with Ministry of Awesome's business mentors, and receive the same level of guidance and inspiration and support as enrolled Ara learners.
Applications open for the Healthtech Bootcamp on the 29th of June 2020, and finalists will be announced on the 19th of August: www.healthtechchallenge.co.nz.