Ara goes placemaking with living willow sculpture
Gap Filler's latest 'placemaking' project for Christchurch city was brought to life by two Ara architectural students who dared to take on a challenging brief, involving a sculpture/structure that would grow and change over time.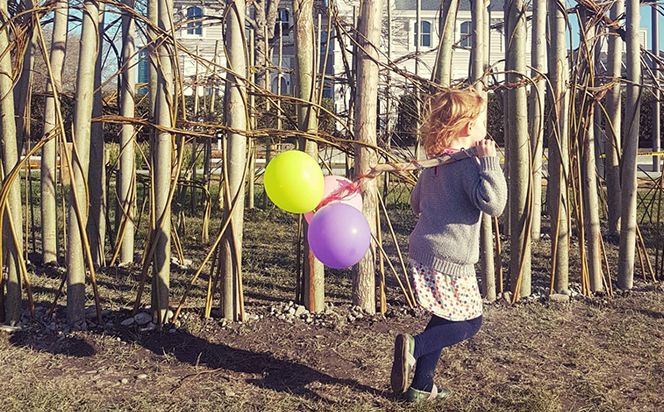 The living willow structure 'Willows on Worcester' located at 169 Worcester Street, opposite Latimer Square, is open to the public 24/7. This Saturday, 24 November the project team are celebrating the success with a family picnic from 10am – 3pm.
Bradley MacPherson and Leon Forgues, second year Bachelor of Architectural Studies students, had just three weeks to design a living sculpture for the Fletcher Living site in the East Frame, part of Gap Filler's extensive Placemaking At One Central programme.
Their tutor Anna Bodganowicz said that none of the volunteer team had worked with willow before, but Gap Filler provided support from people who had skills and experience with living willow - they became integral to the success of the project.
"For the students it was such an amazing lesson, because it was a fun exercise in terms of creativity and design, but straight away they were faced with working with people who specialise in different areas. They needed to ask questions, listen and incorporate others' suggestions into the design," Anna said.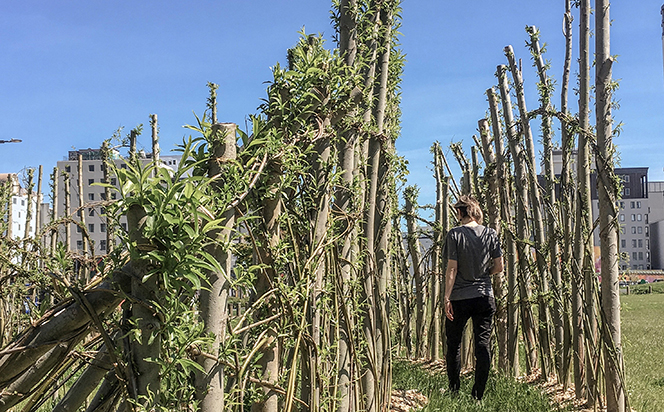 "Who is going to build it, what are the sizes of the willow trunks that are rigid enough to form the structure, will the willow develop roots and how are we going to drill it into the ground? How can it be put safely on site by volunteers, possibly without using any heavy machinery? How can it be watered? How can we make it ready in time?"
Gap Filler's goal is for the structure to encourage social connection, provide some shade and wind protection and tempt people away from the footpath to walk through it.
The conceptual starting point for the students' design was the lutea tree (Chamaecyparis nootkatensis) in the Botanic Gardens. For many people in Christchurch this tree evokes childhood memories of playing within the enclosed space it creates.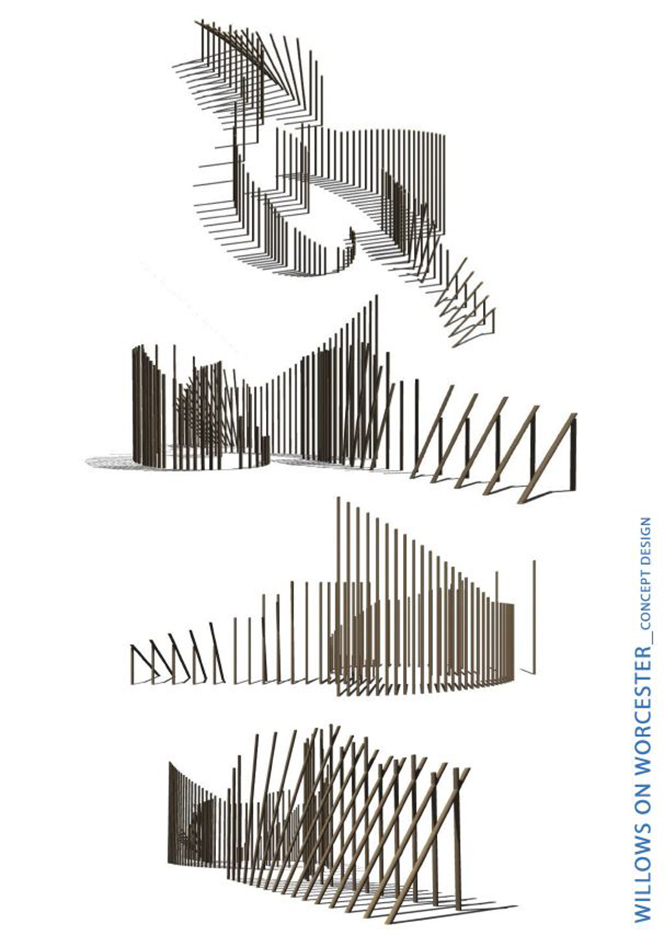 The Ara team designed an organic interactive sculpture that allows people to slow down, sit in a sheltered area, with angled willow trunks to lean against, and for children to explore the tunnels.
"It is quite a big sculpture with different enclosed spaces offering a good flow of movement, but it is actually allowing people to use it as they want and not imposing anything. We hope people will take ownership of the space and connect with nature," Anna said.
And, crucially, the willows are growing. "Now it is all green. The spaces create beautiful views, filter light and create a sense of rhythm," she said.
The students' work earned them respect and a sense of accomplishment. "Bradley and Leon contributed a lot to the community because it is now part of the city, and they have learnt so much from the experience as well."
Further information:
Who is Gap Filler?
Gap Filler is an award-winning placemaking and urban regeneration social enterprise in Ōtautahi- Christchurch, contributing to conversations about cities through designing and delivering public placemaking installations and temporary projects, events, installations and amenities in the city.
The Placemaking at One Central project:
Imagine six inner city blocks full of diverse activities, social enterprise experiments, public amenities – all exploring different ways we can grow community now, and sustain it in the future residential development to come. This is Placemaking At One Central, a partnership between Gap Filler and Fletcher Living to help create great central city residential communities. Placemaking at One Central began in November 2017, with projects such as the Good Spot community run carpark and Giant Spray Cans.
What is the East Frame?
The East Frame is 14 hectares in Christchurch's central city. It is being transformed into a new neighbourhood of 900 homes. These are being built around the third largest public area in the central city, Rauora Park. The area is well connected with cycling and walking paths, is close to the Bus Interchange and connects with Margaret Mahy Family Playground, the Avon River Precinct and the South Frame. The final East Frame apartments are due to begin construction in 2022.
What does an Ara architectural degree offer?
Graduates of this degree play an active role in the architectural design and architectural technology professions, have the skills to work with diverse clients both locally and globally, and are able to express cultural values and understanding through their designs.
They have a developed understanding of kaupapa Māori as it relates to architecture, including an understanding of New Zealand's unique culture and environment. They have the skills and knowledge to act as a sustainable practitioner (economic, social and environmental), and are competent users of research and critical thinking using literature to inform design concepts and solutions.