Ara | Te Pūkenga celebrates Techweek with key events
Strong focus on s
olving
tech
s
kill shortages
;
d
emystif
ying
AI
and
new course offerings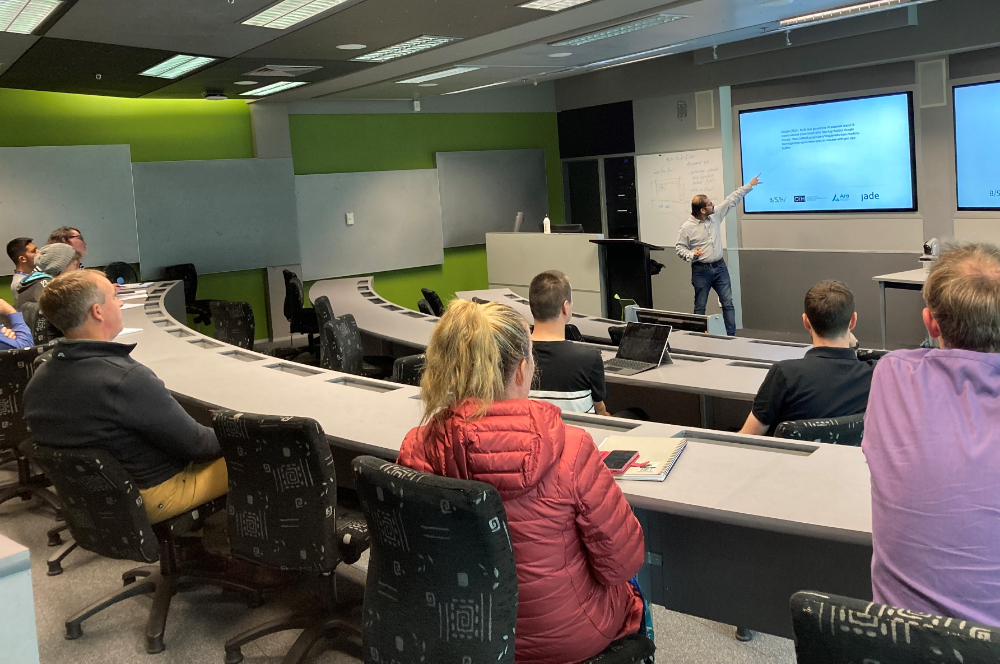 Amit Sakar presented a wide-ranging workshop qt Ara's Imagictech Theatre for Techweek
Ara's ICT Portfolio team have been front and centre of topical events as part of the national Techweek programme; from a presentation demystifying Artificial Intelligence (AI) to participation in a panel examining industry training needs.
Th events also gave the department the opportunity to share updates on exciting new course offerings.
A lunchtime workshop convened by Ara's ICT Delivery Team explored the mechanics and ethics of AI, Machine Learning and the sub-field Deep Learning with a presentation open to everyone from tech professionals to entrepreneurs and those simply curious about the digital revolution.
Lead by Senior Academic Staff Member Amit Sarkar, the event highlighted current and past student projects to illustrate how closely aligned course work at Ara is to unfolding industry needs.
"We continue to be agile in this space," Sarkar said. "AI is becoming cross-platform and present across all industries from retail and aviation to education and manufacturing, which is why it is essential to embrace this innovation. The prevailing view of employers in the current environment is that new hires should have the requisite skills from day one."
He said Ara students are already "contributing meaningfully to this rapidly evolving environment by undertaking tangible projects for leading international companies such as Bosch and organisations such as Jade Software to create solutions for real-world problems."
"Ākonga are involved in several projects for Bosch to create multi-modal communication for a breakthrough food processor design as well as automated testing of smart appliances," Sarkar said.
Students have also developed a pedestrian counter using computer vision to help analyse the proximity of customers in a retail space—which was useful under pandemic regulations—and worked on technology to improve carpark space finders.
"These projects during study are classic examples of work-integrated learning while completing capstone projects and internships," Sarkar said. "As a result, we see students swamped with job opportunities often before their projects are completed."
Ara's ICT department was also continuing to develop and roll out flagship courses to meet the demands of students and industry.
"We have new block courses or evening refresher courses, such as our Database Administration or Best Programming Practices for those who want to change career or keep up with new trends in ICT," Sarkar said.
These additions were particularly relevant in the context of a key Techweek panel exploring future workforce needs, hosted by Canterbury Tech (a broad-based tech sector network) and the Canterbury Regional Skills Leadership Group.
Attended by Ara's General Manager Darren Mitchell and ICT Portfolio Academic Manager Mehdi Asgarkhani along with business leaders, hiring managers and other course providers, the 'Understanding our future IT workforce needs' discussion explored industry challenges and emerging training needs.
Asgarkhani said the event gave training providers insights into the specific needs of tech employers and provided a platform to discuss the challenges and opportunities faced by training providers.
"The hope is the workshop will prompt further collaboration and grow awareness of what is happening in the sector," he said. "As a starting point we have warmly invited Canterbury Tech members to come to Ara to see the projects our current students are completing at our upcoming Emerge exhibition in July," he said.