NASDA presents: A Mark Ravenhill double-bill
In their first production for 2017, NASDA presents two thought-provoking contemporary plays by English playwright, actor and journalist, Mark Ravenhill.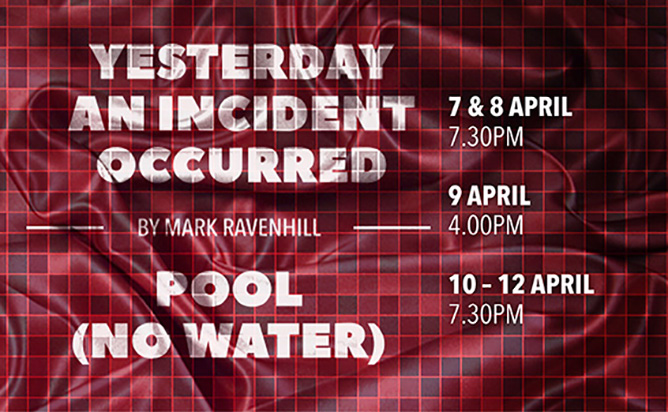 NASDA Theatre
City campus, Madras Street
7-12 April 2017
Pool (no water)
A famous artist invites her old friends to her luxurious new home and, for one night only, the group is back together. However, celebrations come to an abrupt end when the host suffers an horrific accident. Pool (no water) tears up the ideals of friendship and art, exposing a deep vein of envy and revealing a seething collective experience of guilt and jealousy. How long would it take you to exploit someone else's suffering if it made for wonderful art?
Yesterday an Incident Occurred
"One of you saw yesterday's incident and is not coming forward. You're not coming forward. What are you? A rotten egg?" Yesterday, an Incident Occurred challenges you to question your opinions, values and fundamental beliefs in today's society. Will you be happy to punish an innocent man if it means that you can remain unseen? What will the punishment be? What lengths are you prepared to go to to uncover perpetrators of violent crime for your own safety? And what if it meant "big brother" was always watching?