NASDA Presents: 42nd Street
Show business dreams are made of this!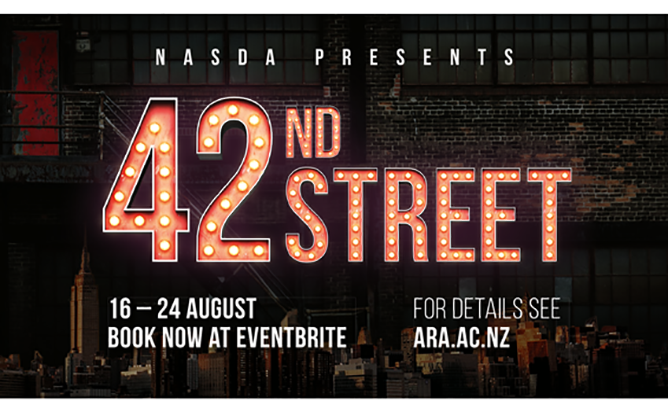 Broadway, 1933. Peggy Sawyer has just arrived in New York from small town Pennsylvania with her tap shoes and big dreams for career on stage. Late for her audition for a new musical extravaganza, she gets a lucky break thanks to the show's romantic lead and makes it into the chorus line. But it's far from plain sailing, with a leading lady who takes an instant dislike to the new girl, a jealous sugar daddy, a stressed director and the threat of the show being cancelled before it even opens. Can Peggy save the day?
Packed with show-stopping ensemble dance numbers and iconic tunes like We're in the Money and Lullaby of Broadway, 42nd Street is one of musical theatre's most classic and beloved tales.
16 & 17 August, 7.30pm
19 August, 6pm
20-24 August, 7.30pm
NASDA Theatre, Ara City campus, Madras Street