Join us for an evening of fun, food and cabarets. NASDA's 2016 graduating year presents "Life, Actually #yolo".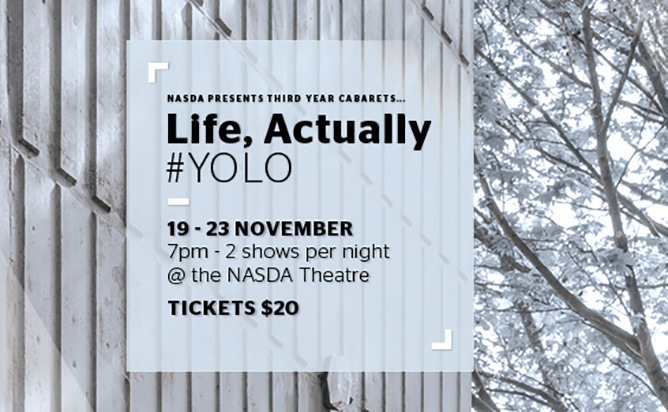 Original performances that will entertain and inspire you.
Guests will be seated at tables, up to six at a table. Delicious platters can also be purchased for $10 per person and alcohol will also be available for purchase on the night.
The Morning After
What antics happened at last night's big party? Did Ben and Mario fight? Where did Te up and go? Sophie didn't pick up her phone!!! Did Iona pass out before midnight? One thing is for sure, what happened the night before, you'll always find out the morning after!
The Greatest Show in Town
Tune in for "The Greatest Show in Town", watch tonight contestants Shannon-Aimee, Bridget, Albany, and Morgan answer questions to try walk away with a mystery prize, as always hosted by the wonderful Stainton Lee Brown accompanied by Nick Hollamby on the sounds. This is a quiz show you won't want to miss!
That's Life
They say a happy life is an intricate mix of ingredients from work and play, to pets and family. But most importantly one should appreciate the things that make it really special: love and sex... and magic.
What I Hate About You
What happens after 3 years of living and studying together? You get a great show. We fight, bicker and make up, just like a real family. With more drama