Renee Li was working in hospitality when she decided she wanted to do something more challenging. She chose IT.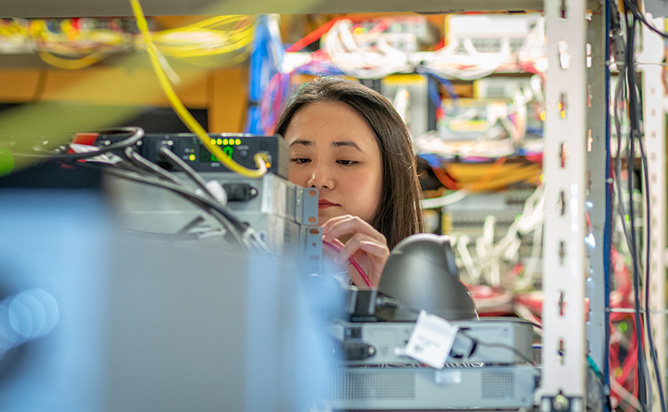 "You'll never get bored in the IT industry because you're always learning the latest technology," she says. "Another reason I chose IT was for job security - the demand for IT professionals is huge and it's increasing. And within IT there's such a variety of areas, so you can always find the best position for yourself."
Renee studied the Bachelor of Information and Communication Technologies at Ara. "Ara has a very good reputation and is well known for preparing students for the industry." She says the main reason she chose Ara was because it provides internship opportunities. "I take work experience very seriously because I believe you can expand your skills and knowledge faster in the work environment."
Renee's 450-hour work integrated learning experience took her to 2IQ where she worked on a web application that uses role-based security to generate reports for different customers. She says it was the highlight of her studies.
While there, she was given real problems to address by her industry mentor and came up with real solutions. Her academic supervisor at Ara confirmed her solutions were both rigorous and could be replicated.
Since January 2019 Renee has worked full-time for Allied Telesis as a web application developer. Allied Telesis builds switches and routers for small to medium sized companies, and creates a simpler and cleaner user interface for networking engineers to configure networks and networking devices. Renee is part of the GUI team which is developing two web applications, Vista Manager and Device GUI.
The role is giving her the opportunity to put into practice all that she learned at Ara, including essential skills in critical thinking, problem solving and programming. "My qualification was key to getting this job," she says.
Allied Telesis is delighted to have Renee on its team. Geoff Hancock, director of IT (R&D) says Renee has a keen eye for detail, is confident to tackle any problem and doesn't let anything get in the way of finding a solution. "We certainly feel she's destined to do big things in the future."
Allied Telesis has since recruited more Ara graduates and is working closely with Ara to give students project opportunities in the future.