"You're in Urinetown!" with NASDA's latest play
Urinetown: A place where you must pay to pee. A drought-stricken land where water restrictions are so bad that only public toilets are permitted, and if you can't pay you'll be sent away….
Ara's National Academy of Singing and Dramatic Art (NASDA) have just finished performing Urinetown, a musical theatre classic with a somewhat intriguing title. The play is based in a dystopian world, post 20-year drought where everyone has to pay to use the bathroom. Filled with dark satire, larger-than-life characters and cleverly composed songs, the story follows a group of rebels intent on bringing down the hierarchical system and regaining their freedom. The show takes inspiration from other famed musicals Les Mis, and West Side Story.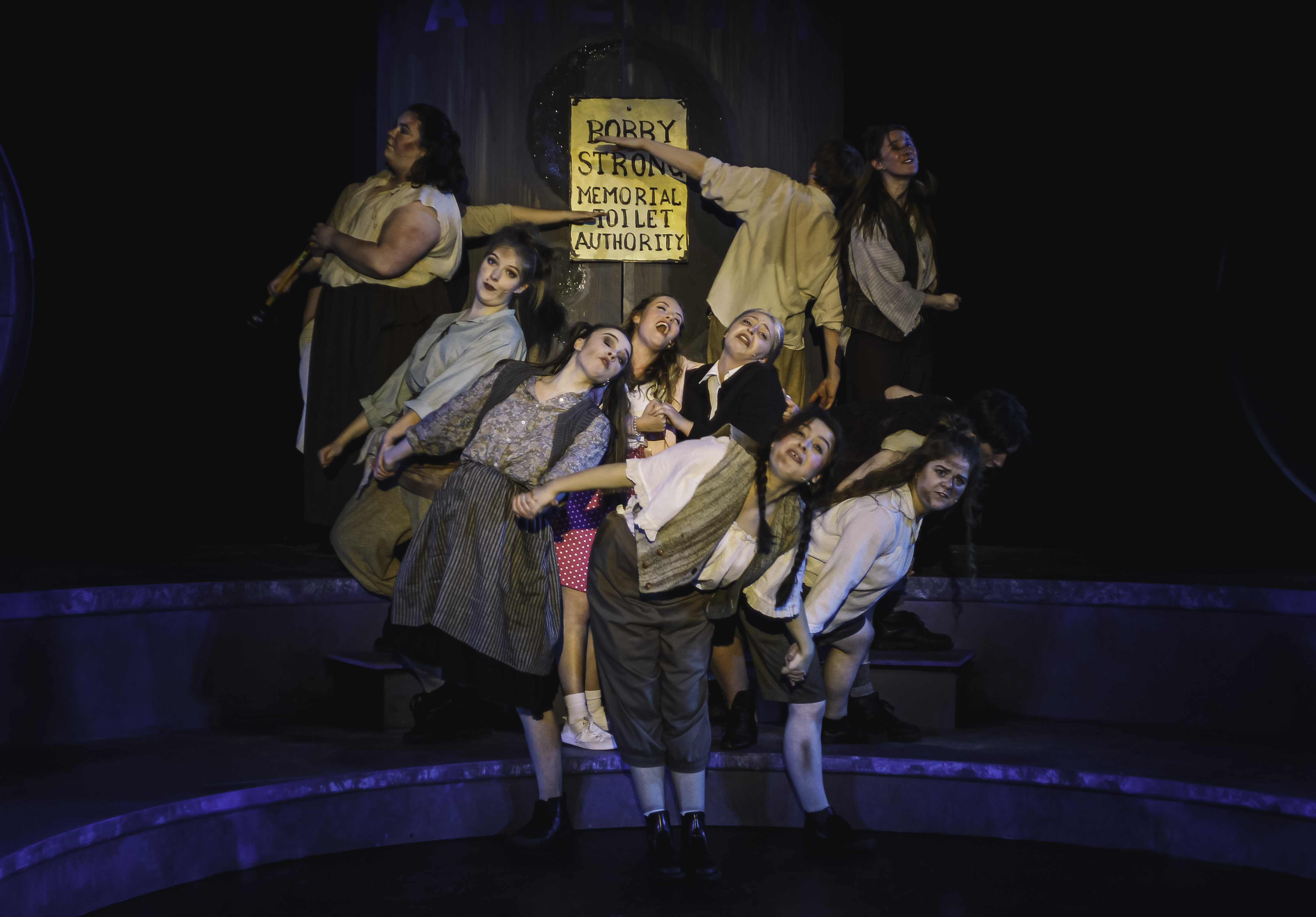 This week the NASDA cast performed a limited season of Urinetown and we caught-up with three of the main characters ahead of opening night:
Finley Hughes plays Cladwell B. Cladwell:
"The show, for me, is a fairytale that has all your classic themes of love, power, fear and heroism but with a crazy twist.
I play Caldwell, the cooky villain of the show. He's a bit of a dream role as he's just so odd and energetic and dazzling that there are really no limits to the character, so every performance I'm able to find new and interesting directions to take him.
"To fully embody the role, a perm was 100% needed, this guy needed to be the most extra dude on stage by far, so I was super keen to take his look to the extreme. The more I don't feel like myself, the funner the character becomes."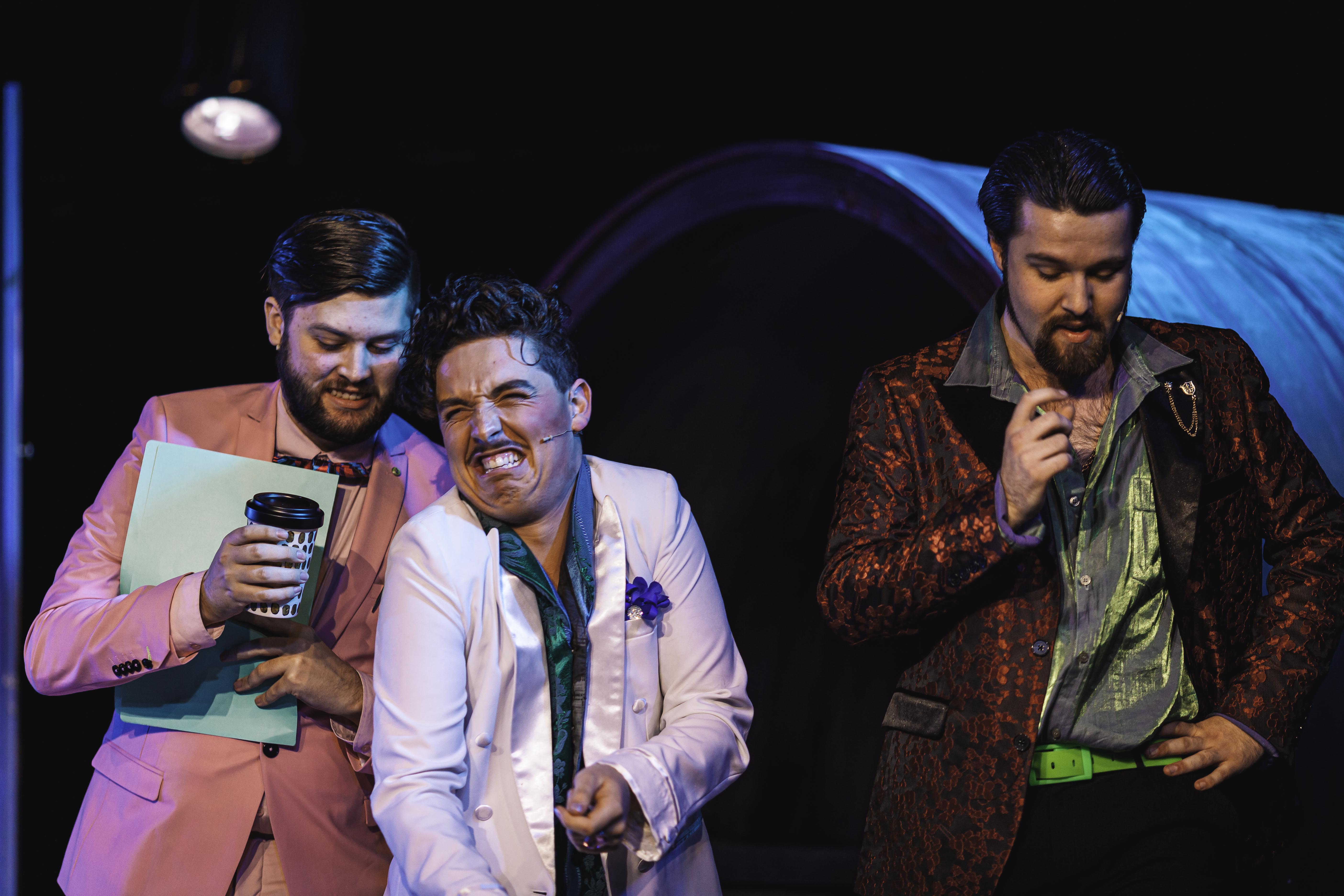 Finley Hughes pictured in centre
Emily-Jane Cull plays Hope Cladwell (daughter of Cladwell B. Cladwell):
"Hope is a loving soul with strong morals, she strives to see the good in everyone and every situation (in spite of her fathers warped beliefs.) Hope follows quite a drastic character arch between act 1 and act 2, going from the "Disney princess" like character in act 1, to a strong and powerful woman who leads the revolution in act 2.
Playing Hope Cladwell has been an absolute dream, and every day I fall more in love with her quirky and loving personality. She has not only taught and challenged me to improve my craft, she has taught me the power of a loving heart and to trust my instincts."
Bryn Monk plays Bobby Strong (who falls in love with Hope):
"Bobby Strong comes across as your classic wannabe- cool guy on the block, but really has a heart of gold. This is evident when he is fuelled by love to start a revolution against the rich to gain equal rights for all.
Playing quite a goofy, yet charming character has been such a thrill for me & has taught me so much about my craft as an actor. I've honestly fallen in love with Bobby as he continues to teach me lessons plus the support of our creative team has helped me learn more about myself."
Nearly cancelled due to COVID, the play was fortunately able to go ahead with smaller audiences, much to the cast's delight.
Emily-Jane Cull:
"When we found out that Urinetown could happen I was beyond excited, it almost didn't feel real. I have never been so proud of a show in my life. Everyone has worked so hard from day one, it deserves to be seen and I'm so excited that we get to share all our hard work with audiences."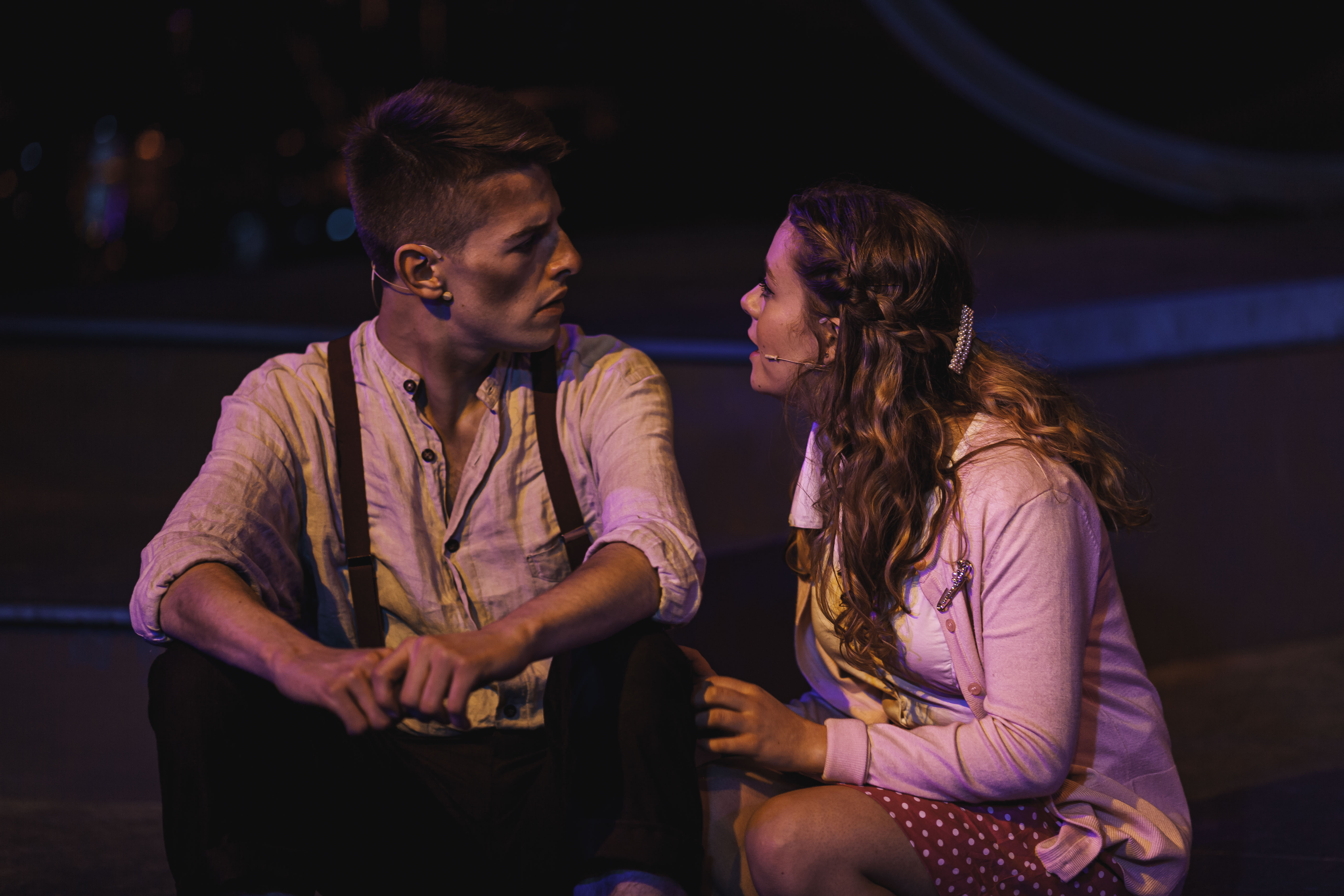 Emily-Jane Cull and Bryn Monk

Bryn Monk:
"I am extremely grateful that we've managed to put on this bop of a show, especially under the COVID-19 restrictions, as I'm sure many of us were sure it would be cancelled. It's made it that much more special for our company to be able to share our hard work and passion for this project, with the public. We all are very blessed every single day that we are able to get to do this!"