Young Entrepreneurs honoured for achievements
Our next aspiring entrepreneurs were on show last night at the 2019 YES Regional Final and Awards evening at Ara Institute of Canterbury. The top six Young Enterprise Scheme (YES) teams pitched their ideas in front of a panel of judges and fought for this year's title.
Four Year 13 students from Cashmere High School, known as JELF, scooped the top award with a world first eco-friendly alternative to A4 and A3 laminating pouches. They function identically to existing laminating pouches but are "better for the environment from production through to disposal".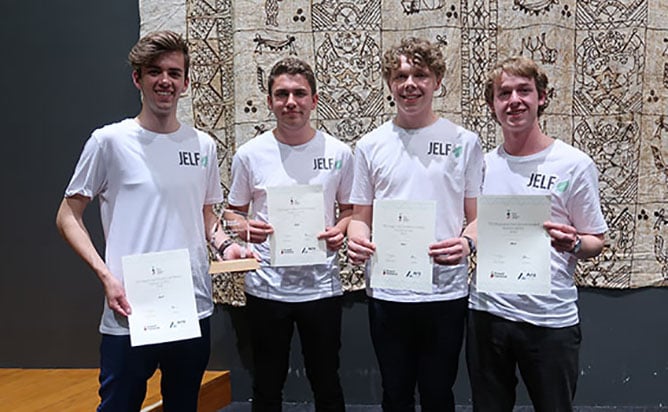 Four Year 13 students fro Cashmere High School founded the company JELF and won the 2019 YES Regional final.
Eddie Hogan (CEO), Lukas Hornell (CFO), Finn McCabe (Communications Officer) and Joshua McKernan (Production Officer) said winning was the best thing in their lives.
"It is pretty amazing. We never thought we would make it this far. There were so many other teams who were doing really well and easily could have taken this award home," said Hogan.
He added that while it was a lengthy and at times difficult process to establish the company, the group wants to expand in the future.
"We are definitely planning on continuing this company after we finish high school. We want to invest in a larger scale production and hopefully be able to manage it all.
The student's business teacher, Matt Benassi, who also mentored the runner up winners (Pivot) and won the National Teacher of the Year Award during the event, said it is a first that both his teams did so exceptionally well.
"I'm really happy and excited that both teams got a title. They put so much into their pitches and elevated themselves to get to that point. I'm blown away!
"They've taken on challenging products and persevered to get to the point where they are now. I loved seeing them get there and enjoyed watching their successes."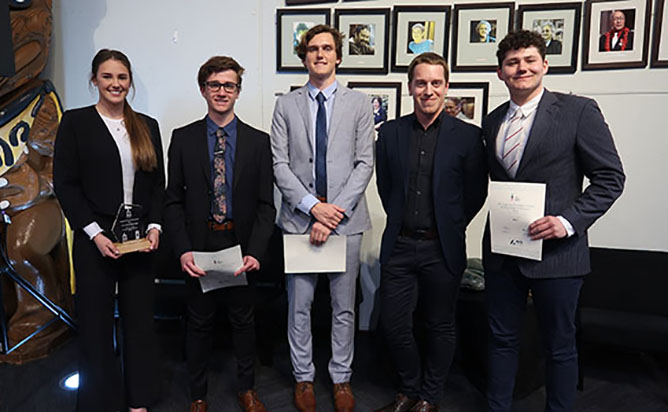 Pivot, a company created by another group of Cashmere High School students, were placed second by the judging panel.
Paul Burke (Customer Manager at New Zealand Trade & Enterprise), Ben Kepes (Board Member, Entrepreneur and Investor), Michaela Blacklock (General Manager at Canterbury Employers' Chamber of Commerce) and Sheena Henderson (YES Trustee & Professional Director) made up the judging panel. They had to make the tough decision, who would not only be crowned the Canterbury 2019 Regional Winner but also who would gain one of two spots to represent the region in the Wellington Final on 4th December.
Burke said one thing that was great about JELF's performance and which they should not change, was that they were thinking big.
"JELF stood out for having a compelling business model and thinking about IP, investment and distribution channels. Their mindset is clearly in the real-world commercial space."
Ara CE Tony Gray acknowledged the efforts all teams put into their pitches.
"Well done and congratulations to all of you who took the plunge. We need you to be the entrepreneurs of New Zealand's future."
This year's teams were again showing great creativity, innovation and an ever-increasing awareness of environmental and social issues which played a large part in product conceptualization.
A strong motivator for many of the participants was to contribute to the reduction of non-biodegradable waste and raise awareness/support of social issues such as mental illness amongst youth.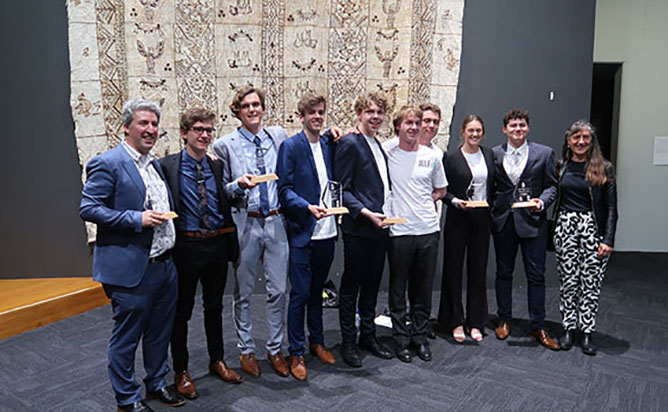 A successful evening for Matt Benassi (far left) and his students.
Background:
YES is a programme that sees senior high-school aged entrepreneurs in their last two years of high school set up and run real businesses over the course of 12 months. They create real products and services, bring them to market and sell them to real buyers.
Throughout the competition, students not only learn business skills but also problem solving, moderating risks, leadership, effective communication, alongside other core competencies are highly valuable skills for their future.
Excellence in specific areas of business was also recognized at the event thanks to our sponsors.
The Regional Excellence Award Winners 2019 are:
Rotary Club of Christchurch Sunrise YES Regional Excellence Award for Social Enterprise – AZUL E-Wrap (Christchurch Girls' High School)
Baldasso Cortese Noordanus YES Regional Excellence Award for Innovation- Pivot (Cashmere High School)
E3 YES Regional Excellence Award for Finance – Hug in a Hoodie (Villa Maria College)
Powell Fenwick YES Regional Excellence Award for Sustainability – JELF (Cashmere High School)
Ara YES Regional Excellence Award for Customer and Market Engagement – NZ Happy (Darfield High School)
Ara YES Regional Excellence Award for Enterprising Technology – Pivot (Cashmere High School)
Ara YES Regional Distinguished Mentor – Matt Benassi
Young Enterprise Scheme CEO, Terry Shubkin, took the opportunity at the Canterbury Regional Final to recognize the hard work of our teachers in the Region with the presentation of two National Awards:
YES National Teacher of the Year – Matt Benassi (Cashmere High School)
YES Teacher Longevity – Gayle Cameron (Kaikoura High School) – 20yrs of service
This year's sponsors were:
Rotary Club of Christchurch Sunrise
Baldasso Cortese Noordanus
E3 Accountants
Powell Fenwick
Boma NZ
Chartered Accountants Australia New Zealand
Ara Institute of Canterbury