World-first virtual reality training at Ara wins national ICT award
Ara won the Microsoft Award for Excellence in Technology Delivery and the Supreme Prize for developing and implementing innovative, world-first, virtual reality training, at the national Tertiary ICT conference awards [4 October].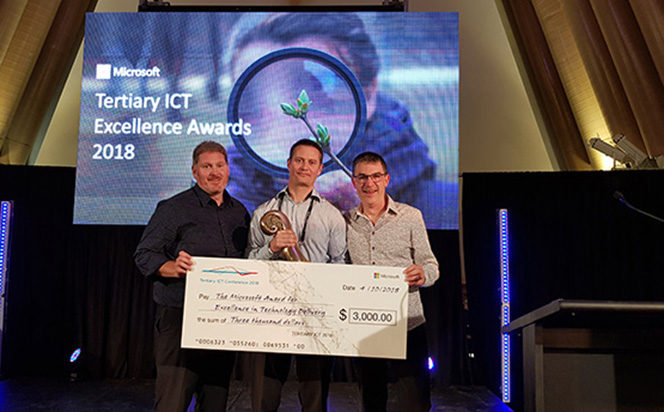 Collecting the prize (from left) Ryan Roughan, Manager of Technology at Ara, James Hayes, Medical Imaging tutor and Mark Marshall, Director of ICT at Ara.
Medical imaging tutor James Hayes, who worked with a team to develop the training platform, accepted the prize of $3000 for "exceptional delivery of technology across projects, service delivery and support", along with colleagues Mark Marshall, Director of ICT at Ara and Ryan Roughan, Manager of Technology at Ara.
Medical imaging students at Ara were the first in the world to learn to take X-rays with Virtual Medical Coaching (VMC) ground-breaking technology.
The Tertiary ICT conference judges were particularly impressed with Ara's applied use of technology.
Judges impressed by applied technology
"It was wonderful being part of the judging this year, we were blown away with the calibre of entrants across the three categories. James Hayes, Ara Institute of Canterbury won the Supreme award for his Adaptive Effective Digital Learning intertwined with ML, AI and VR simulation, (innovation) entry. This was a stand out for the judges due to the way James used technology to change the student learning experience and enable greater success," Carol Brown, Microsoft Higher Education Account Executive, said.
The Ara team took the prize from a strong field of the country's top polytechnic and university ICT researchers.
The VMC platform provides students with a safe, radiation-free environment to perfect their X-ray technique. Coupled with an adaptive e-learning platform, the software adapts based on students' answers to questions, quickly identifying their strengths and weaknesses. Lecturers have access to data in order to adjust their course content to meet the needs of individual students.
Adaptive to individual learners
"Rather than building courses that treat every learner the same way, this pedagogy gives you the freedom to create courses that dynamically adapt to each learner's needs and abilities. You may choose to deliver different content based on the results of an activity, the learner's response under pressure or prior knowledge being exhibited," Hayes says.
"Delivering the same information to all learners regardless of their needs and abilities is an approach driven by linear methodologies. Adaptive learning is not only more efficient but provides you with the next level of sophistication needed to create more challenging learning designed to engage the mind. Combining practical skills assessment, virtual reality, and Machine Learning to achieve the ultimate blended delivery that learners can engage with will also provide a greater return on investment."
The innovative approach enables graduates to be work ready, because they have trained virtually on the latest technology used in the health sector.
Ready for real life health settings
"Virtual reality simulations can provide life-like experiences in a safe, immersive, realistic environment. Switching to VR simulation enabled the students to rapidly see what errors they were making as for the first time they could image "the patient" and the tutors could allow them to make mistakes to see the consequences and learn from them."
VMC delivers to the Ara strategic goal of 'personalised and flexible student journeys', Hayes says. "The software that we are now using supports innovative, engaging, flexible, blended delivery. Plus we have the results to prove it works with an 80% increase on use of the simulation room, a 50% improvement on self-directed learning, and a 20% (estimated) improvement on student success in the clinical environment."