Winning Ara students make waves at 2020 Engineering New Zealand Awards
Rebecca Tinga and Ryan Johnson, two of Ara Institute of Canterbury Ltd's final-year students, have just received Engineering New Zealand's "Student Innovator of the Year" award.
This honour, awarded as the 'Ray Meyer Medal for Student Design', is open to all tertiary engineering departments in New Zealand and recognizes outstanding design within a final-year project.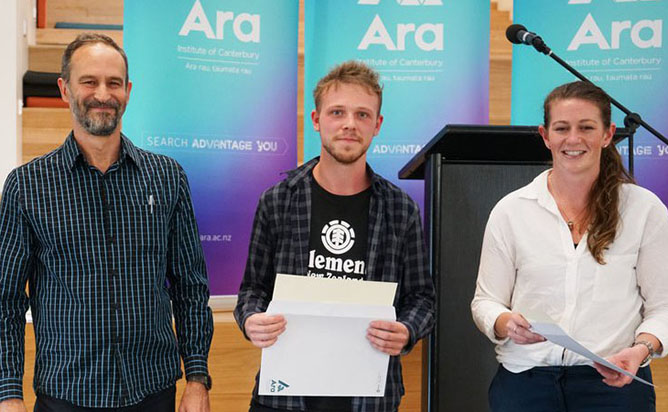 Dr. Tom Cronje, Ryan Johnson, and Rebecca Tinga
Rebecca and Ryan, working under the supervision of Dr. Matt Ramezanian Pour, created a novel electro-coagulator device, designed to ameliorate the environmental impact of discharged greywater while also adding to drinkable water supplies. In this, the project exemplifies Kaitiakitanga – respecting and honouring the environment, that it is integral to our existence, and demonstrating our role as guardians of the planet. As water scarcity becomes an increasing urgent global problem, greywater recycling is emerging as a cost-effective and sustainable way to supplement dwindling drinking water supplies.
The project, originally conceived as part of student entrepreneur club Entré's "$85k Challenge", was designed to create a compact pre-treatment unit for returning laundry greywater to a drinkable standard. The electro-coagulator uses electrolysis to de-stabilise contaminants, rather than using traditional chemical additives such as coagulants which can increase the salinity of the water after treatment.
Engineering New Zealand's judges described the work as "an innovative and logical idea, supported by a clear and concise presentation." They went on to say that "the project stood out as not only did it address a real environmental problem, but it also gave a workable and practical solution." A judge noted the product could be utilized by Fisher & Paykel and Rebecca added "It could easily be fitted to individual washing machines in a home setting – a friend was asking if she could get one!"
2020 is the second year that Ara students have won the prestigious award since its inception in 1999. In 2018 Van Dinh Nguyen was recognized for the ingenuity of his 'micro-hydro generator' which can harness the power of rising and falling tides in rivers and the sea towards the generation of electrical power.
This year's winner Rebecca, now working as a civil engineer, appreciated partner Ryan's complementary skill set, saying "he was very knowledgeable." Rebecca also had very fond memories of her time at Ara. "As a student, the passion of the tutors for their work made a huge difference - it's such a great environment to learn in when all of the tutors want to be there."
Dr. Michael Edmonds, Head of Engineering and Architectural Studies at Ara, shares Rebecca's enthusiasm. "It's exciting to see Ara students' work recognised again at a national level. The student projects are one of the highlights of our engineering degree and attract a lot of interest from industry."
The winning team hope to soon receive their award at parliament during Engineering New Zealand's prestigious annual Fellows' Dinner, but a new date for their well-deserved celebrations has yet to be confirmed.