Virtual training innovation
If you don't work at a port you may not have any idea what a straddle carrier is.
Neither did Ara computing student Anna Bakker before she started on her third-year degree project, which was chosen to be part of Christchurch City Council's prominent Innovation Expo 2019.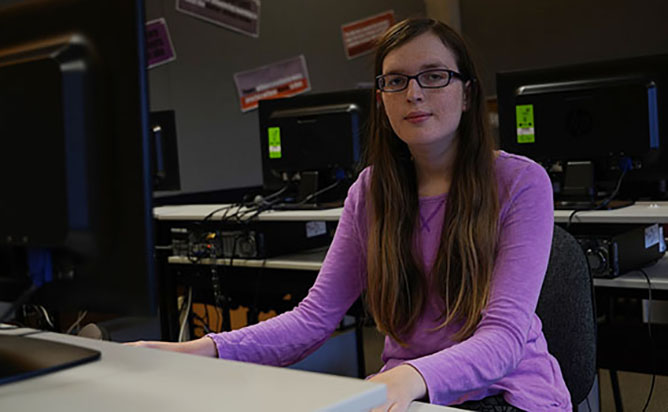 Anna Bakker's virtual reality project was chosen to be part of this year's Innovation Expo at the Christchurch City Council.
It was the second, consecutive year in a row that one of Ara's Bachelor of Information and Communication Technologies students was invited to present their work at the expo. The Innovation Expo is a showcase of solutions that combine data, technology and new approaches making Christchurch a better place to live.
Bakker has still never been on top of a container straddle but she knows now how to operate one – at least virtually.
She worked with Christchurch based organisation LWA Solutions on a virtual reality program that allows port staff to train safely how to drive a straddle that picks up shipping containers.
Bakker chose the software engineering pathway and is graduating with a Bachelor degree this spring. She describes the VR set up she worked with as more reasonably priced and safer alternative to the current available configurations.
"The set-up which I modified consisted of a gaming laptop linked to a VR headset, as well as a steering wheel, a joystick and foot pedals. They are very similar to the controls of an actual container straddle but also cheap enough to buy. With this affordable set-up you can simulate driving around in a straddle and picking up containers. "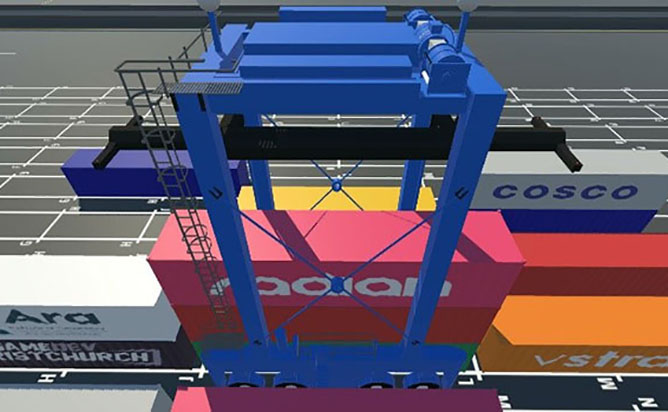 A container straddle picking up containers in the VR training program.
When Bakker joined the project the company already had a simulator working but the virtual scene wasn't realistic enough and needed improvements.
"You need a lot of shipping containers to make the scene look realistic, around 2000 containers actually. The problem was the computer couldn't handle that many shipping containers in the scene and the frame rate would drop significantly to about 15 frames per second.
"If you are looking through a VR headset at 15 frames per second you tend to get motion sickness. The optimum in VR is 90 frames per second. So my first task was to optimise the models and textures so surroundings became less detailed when they were further away or smaller."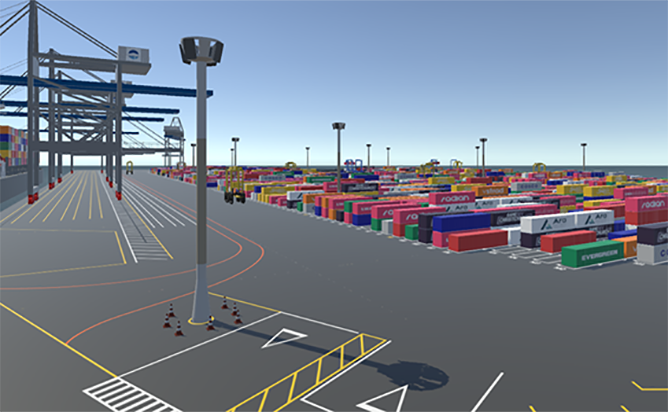 This is a scene out of the virtual reality training program that Anna Bakker worked on.
Bakker said she also added more functionality for the straddles and making them pick up and drop off containers accurately as well as avoiding running into each other.
Her uncle, who is driving a container straddle at the Port of Lyttleton, gave her useful feedback and knowledge that helped develop the training program. In total it took her around four months to create all the enhancements.
"The software is not finalised yet. There are still several more elements that could be added on to the project to make it even better. I think LWA Solutions want to get more Ara students to work on it and improve it further."
Computing tutor Amit Sarkar is proud of Bakker's selection for the Innovation Expo 2019.
"I am delighted that her project has been selected for the event, which is open to the business sector, technology companies, local innovators, tertiary institutions and central and local government.
"CCC have selected around 40 smart projects from boutique start-ups that are only focusing on smart cities projects, Internet of Things (IoT) companies and big data companies. This is the second year our student projects have been selected for this high-profile event. It shows how well our work integrated learning projects are perceived by industry."
For Bakker virtual reality was a new area to be working in. She had never developed anything in VR before and had to learn everything about the platform she used to improve this program.
Working in an industry that creates virtual reality programs is not something that Bakker is aiming for though.
"Ideally, in the future, I would like to work somewhere I can write code that helps people."
Outside of studying she has volunteered her time to oversee gaming related online server communities and written code to improve their user experience.