Transport & Logistics sector celebrates new training programme
A new industry-led Transport & Logistics programme will soon begin in South Canterbury, following substantial collaboration between local businesses, Ara Institute of Canterbury and key organisations.
Enrolments are open for the New Zealand Certificate in Commercial Road Transport (Heavy Vehicle Operator) Level 3, which commences at Ara's Timaru campus in late October. Enquires were already being received before the programme had been launched.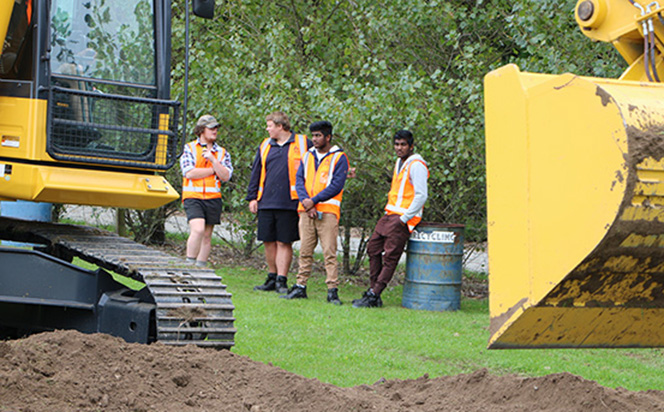 A Transport & Logistics sector day brought together industry and secondary school students ahead of the new programme launch
The programme aims to fill the need for skilled transport and logistics workers in South Canterbury and to get more skilled drivers on the road. The transport and logistics industry is a large employer within South Canterbury, and it is growing.
"Historically there has been a gap in the region, in the transport & logistics sector that offered a training and educational pathway for people to kick start their careers in this field," Alle McGrath, Chief People Officer at Hilton Haulage, says.
As chair of the new Transport & Logistics Group overseeing the initiative, McGrath is pleased with the outcomes. "With the challenging nature of the licencing process, it has been difficult to provide opportunities in terms of 'opening the doors' to people with little to no experience at driving trucks and operating forklifts. This program now provides that opportunity for South Canterbury."
Industry partners informed the content of the 30-week programme and an industry panel will continue to ensure the programme delivers the key skills, knowledge and competencies that industry expects.
CEO of the Road Transport Association, Dennis Robertson says the programme is "a great initiative for South Canterbury and the industry at large to address the most pressing problem we have - the driver shortage".
Over 22 local businesses in the T&L sector have been involved in helping to drive the new course, working together for the good of the sector. "The fact that it has been designed and moulded by industry in a collaborative way, means that it has been set up for success – a program that is targeted, relevant and includes a substantial dose of work placement within industry," McGrath says.
Students gain their Class 2 licence on week two of the course, which means that they can hold their Class 4 licence by the time the course finishes. Students also gain their F endorsement, First Aid Certificate as well as many other key skills such as loading and unloading, risk management, route planning, dynamics and handling, customer service skills and fatigue management.
"Success will be well rounded, skilled and qualified students that complete the program with the requirement licences, with a solid chunk of work experience gained on the ground, in the workplaces that they will gain permanent employment. It's a win, win for employers and students," McGrath says.
Industry partners, including Timaru Container Terminal, Moloney Distribution, Pye Group, H & J Bruce Transport, Fonterra and Fulton Hogan are more than ready to back the new programme. "The launch will be well supported and welcomed in the region. We could say it is well overdue. Other regions have had success in this space and we have spent time looking at their successes and learning from the programmes they have in place currently."
"The dedication from the industry to date, to support this programme and work with Ara to produce a programme that will deliver the outcomes we need – more skilled, motivated drivers and operators - suggests that there is a lot of interest and confidence in what the program will deliver."
Industry partners have committed to providing students with work placement opportunities and providing ongoing feedback to Ara, to make the programme as practical and relevant as possible.
Hilton Haulage is already gearing up to participate. "Like other local transport operators, Hilton Haulage will be providing work placement experience to students on the program, giving them hands-on, practical, real-life experience within the transport environment. The program will be run with "everyday transport life" in mind – for example, students will be required to complete a logbook for each day on the program, whether they are in the classroom or out in the field."
Aoraki Development, Ara, South Canterbury Chambers of Commerce and industry partners have worked collaboratively on this course over past months including showcasing the opportunities showcased the opportunities in the industry to secondary school students at an event in March as a lead up to the programme launch.
Students will be assessed to make sure they are suitable for the programme and ready to succeed in the industry.
Programme information is available and enrolments are open on 0800 24 24 76.
Read more: "Transport and logistics open day at Levels Raceway ahead of new Ara course"