Transformational journey- The beauty therapy student becomes the tutor
"I am proud that Ko Au now stands at the entrance of the Beauty Therapy School so that people know they can be themselves here, no matter what they bring." says Beauty Therapy tutor Khrissy Paynter.
A traditional Māori carving was unveiled at Ara Institute of Canterbury's Beauty School late last year, to honour the life and learning journey of tutor Khrissy Paynter.
A few years ago, the Beauty Therapy School graduate would never have believed she would become a tutor and a dedicated mum to her daughter.
"My past was too dark," she says. "It was too tough to imagine that this is what I'd be doing now."
To honour the difference Ara made in turning her life around, Paynter asked her uncle, carver and artist Raphael Stowers, to create a piece which symbolised the bringing together of the many cultures found at Ara and the values that bind us together.
Paynter says the carving, called Ko Au (I am me), is about "treating people as one, no matter who you are. It represents how your past doesn't need to determine your future, and how light can come from darkness."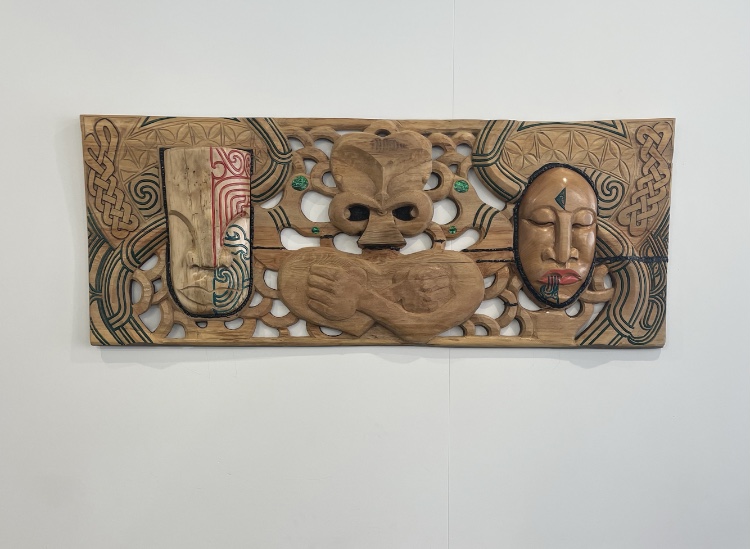 A carved taniwha (supernatural being from Māori mythology) with its arms crossed represents taking a stand against bullying – something that was a part of Paynter's life for many years. Two faces – one female and one male – speak of the importance of balance in life.
"Ara is a journey and is a safe place for people to come," says Paynter. "I am proud that Ko Au now stands at the entrance of the Beauty Therapy School so that people know they can be themselves here, no matter what they bring."
After an abusive relationship, Paynter found herself "in and out of City Mission, eating out of date food, sleeping rough. I was addicted to meth and would often stay awake for several nights in a row. Then, I lost custody of my daughter. I just hit rock bottom."
"One day, I realised I had a choice: death, or make a new life for myself and my daughter. She became my focus - then my life started to change."
In 2019, Paynter enrolled in Beauty Therapy at Ara.
"I loved it right away – I knew I had found my calling," she says. "One of the tutors that I told everything to was very supportive of me – she didn't give me one ounce of judgement. I thought I had a speech impairment and I seemed to forget a lot of things at first. But even if I asked the same question five times, they just gave me a calm answer each time. I felt accepted for who I was."
In her first year at Ara, Paynter won an Eke Panuku Award, which recognises the achievements of Māori and Pacific students.
"I remember it so clearly," she said. "I was so nervous walking up on the stage to receive the award. I didn't realise what they were really for, other than something about my positive attitude and being beauty therapy facialist of the year."
"After that, I seemed to have really good focus – it sort of set me up to strive big and keep going with my studies, no matter what."
After earning her Diploma in Beauty Therapy, Paynter became a learning facilitator.
"My tutors believed in me," she said. "They wanted me to go far in life."
Later that year, she was nominated by her students for a Teaching Excellence Award because, she thinks, "students loved me, and I could really connect with them."
Paynter remembers the Head of Department, Mandy Gould, saying to her that she'd have to come and become a tutor at Ara one day. "I couldn't believe it and couldn't imagine that," says Paynter. "It was like my view of myself suddenly changed."
Gould has noticed that Paynter "really connects and supports learners to succeed whether it's into industry or higher levels of study. The Ara's values of hono (connect), hiriri (inspire) and aroha (respect) are evident in everything Khrissy does."
After graduating from Ara and working at a cosmetic clinic in Riccarton, Ara contacted Paynter to offer her work as a part-time Beauty Therapy tutor, Paynter's "dream job."
Over time, she built up her hours and now works full-time at Ara as well as weekends and evenings at the clinic. This year she's building on her teaching experience with the Certificate in Adult and Tertiary Teaching.
"Ko Au expresses my gratitude to Ara for helping me find myself again. Now, I have the chance to help other people start making small changes in their lives so that they can find their better version of themselves too."
Ko Au can be viewed in the foyer of Ara's Paxus House, at the corner of Tuam St and High St, Christchurch.