Tour of award winning Kahukura at Ara's first Green Campus Day
A little extra design goes a long way when it comes to sustainable building performance. That's the message from Jasmax designers who will run a public tour of the award-winning Kahukura facility at Ara's first Green Campus Day on 25 September, 12 noon – 1pm.
Ara will also showcase a range of sustainable projects at the event, from beeswax wrap making to sustainable fashion, which illustrate the institute's sustainability journey through operations, curriculum development and community leadership.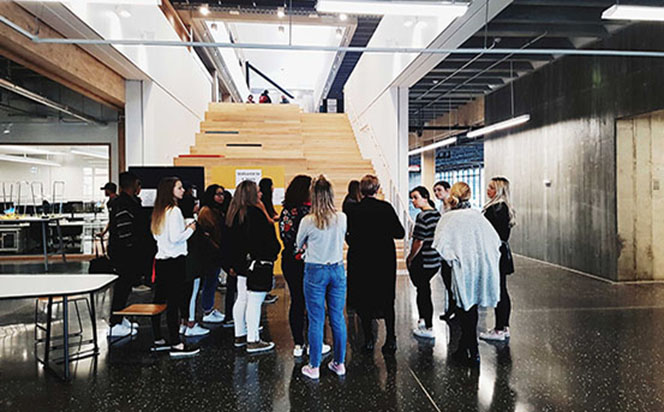 Designers Jasmax will run a public tour of Kahukura, is one of the greenest buildings of the Christchurch rebuild, at Green Campus day tomorrow.
The Kahukura tour is one highlight of the event. When Ara opened the new Jasmax-designed three storey, 6,500m2 building in August 2017 it was hailed as one of the greenest buildings in the Christchurch rebuild. Kahukura, the engineering and architectural studies facility, subsequently won a Learning Environments Australasia Excellence award, Property Council NZ Best in Category + Excellence awards and a NZ Commercial Project Gold award.
Timber is becoming more popular globally and Kahukura is one of this country's earliest completed examples of multi-storey timber structural designs. The facade is CNC-routed cross laminated timber (CLT) internally and glassfibre reinforced concrete (GRC) cladding. Along with carbon storing timber, Kahukura features 400 solar electric panels generating around 70% of energy needs and water harvesting. The building inspires students who are learning about engineering and design.
The Ara Sustainability Charter commits the institute to principles for action, such as sustainable operation and graduating students who are leaders in sustainability in their field.
Sustainability projects at Ara's Green Campus Day
The new Masters in Sustainability qualification is announced
beeswax wrap making
traps for taking pests from the Avon River and habitat restoration
free blood pressure testing
discounted menstrual cups
sustainable fashion
plastic straw-free Christchurch
sustainable sausage sizzle
Yoogo electric vehicle hub at Ara
share bike scheme
sustainability in midwifery
paper recycling in the School of English
Timaru campus boiler conversion from coal to wood pellets
seedling kits
NZ Green Building Council – Ara's membership allows Ara staff and students to sign up, access resources and receive discounts on training courses.
Australasian Campuses Towards Sustainability (ACTS) – Ara's membership allows Ara staff and students to sign up and access resources and professional development opportunities.
Sustainable Business Network - Ara's membership gives Ara staff and students access to resources, networks and events.