Three-month-long photo wins national award
A continuous quarter-year exposure using a unique pin-hole camera has won Ara Art & Design tutor Stefan Roberts the $5000 Premier Award at the Walker & Hall Waiheke Art Award 2018.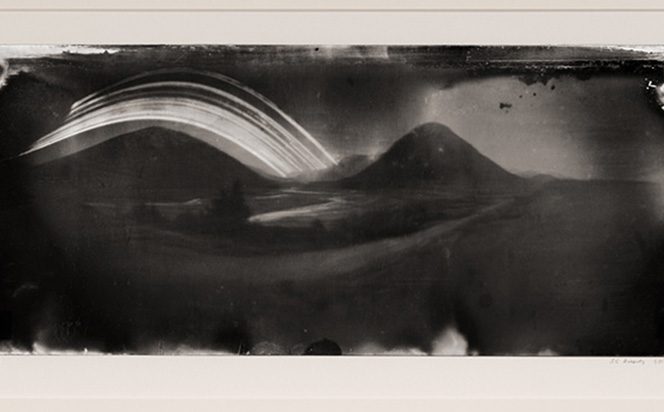 Harper River – Waterlog – 92mls by Stefan Roberts
Noel Ivanoff, Director MFA Programme, Whitecliffe College of Arts & Design selected finalists and judged the national award, which is for two dimensional works in any medium, at the Waiheke Community Art Gallery on Waiheke Island. The gallery has some global recognition having been featured in the New York Times, 36 Hours in Asia and Oceania and The Lonely Planet.
Roberts attended the award ceremony on 19 October.
Roberts said precipitation was gradually collected within the image-forming chamber of the homemade camera to create the mesmerising image titled Harper River – Waterlog – 92mls. The framed image is for sale for $1200.
"This work explores the importance of water as a pivotal force within nature; the water that shapes the environment has been allowed to alter the photographic interpretation of the landscape," the artist's statement said.
Roberts also collected a Student Award for Teaching and Learning last week.
Ara Art & Design tutors use innovative techniques to create stunning artworks that feature in publications, appear in exhibitions nationally and internationally. Tutors and students regularly win national awards.
Ara artists at Appalachian Centre exhibition
The Walker & Hall Waiheke Art Award 2018 exhibition is open until 11 November.