The heat is on as Nestle Toque D'or approaches
The annual event pits teams of top hospitality students and trainees against each other in a live kitchen cook-off.
Students Shikylah Dearnley, Chahna Victoria Davis and Navneet Narayan will face off against seven other teams from around the country when they hit the competition floor in Auckland on Monday 13 August.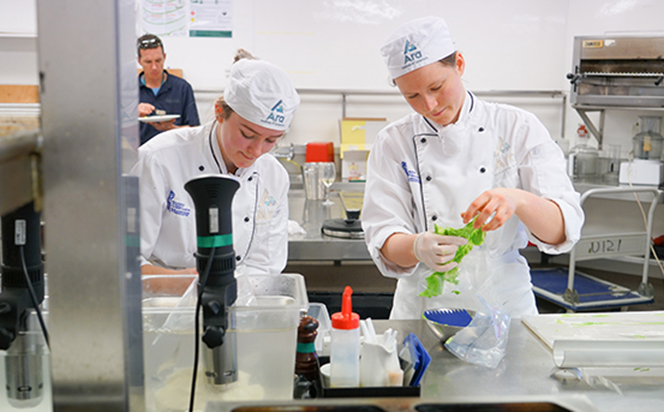 Shikylah Dearnley and Chahna Victoria Davis fine tuning their teamwork in the kitchen in the lead up to Nestle Toque D'or
Event organiser NZChefs national president Graham Hawkes says the students have been undergoing a rigorous training programme in the run up to the big event.
"It's definitely not for the faint hearted, as the team has to perfect and complete a four-course menu, while a panel of top industry judges critique and score their every move."
Included in this year's roster of judges is culinary giant Anton Mosimann of the UK.
"Recognised internationally for his culinary expertise, Mosimann has held many high-powered positions and received numerous accolades during his career," Graham says.
"Mosimann's Limited holds a Royal Warrant as caterers to HRH The Prince of Wales and in 2004, he received an OBE for services to the Tourist and Food Industries."
Mosimann's involvement in the event will also be particularly significant, given that he was the first ever winner of the competition when it was first launched overseas.
Graham says the teams will be working hard on competition day to impress Mosimann and the other judges and take out the top award. Last year, a team from Ara Institute of Canterbury Timaru campus won two golds and a bronze medal at the event.
Each team is made up of three competitors – two culinary and one restaurant service. Menus and service must be completed in a set timeframe within a simulated kitchen and dining environment.
Aside from the competitive aspect, the competition also offers students a gateway to career opportunities and job offers, with influential culinary professionals scouting the event for fresh talent.
Graham says people can watch the teams in action at the Logan Campbell Centre in Auckland from 10.40 a.m. or via live streaming on the Nestlé Toque d'Or Facebook page.
Sponsors of this year's event are: Nestlé Professional, Beef + Lamb New Zealand, vegetables.co.nz, Akaroa Salmon, House of Knives and Moffat.