Te Reo classes taking public sector workers to new level
New Zealand's public sector supports a diverse range of individuals amid a multicultural background, so attaining cultural competency is vital to organisations who need to effectively serve the public.
For the Ministry of Social Development (MSD), ensuring staff understand the key values of Māori culture and gain a basic level of Te Reo motivated them to enrol staff in classes at Ara Institute of Canterbury. Jason Tibble, Regional Commissioner at Ministry of Social Development commented that "We know we can be more effective public servants by growing our listening and communication skills, particularly for Māori whānau. One of the best ways to achieve this to gain a better understanding of language. As Sir James Henare put it: ' The Māori language is the core of Māori culture. If we lose it, then we lose who we are.' "
On Wednesday 11 March, 16 staff members were recognized as the first MSD group to complete a course and were presented with certificates in a 'graduation' event at Te Aitarakihi Multi Cultural Centre in Timaru.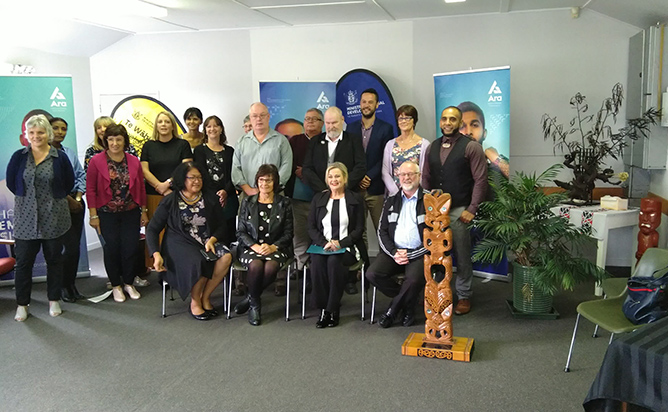 Merali Taylor, Timaru Service Centre Manager for the MSD said "Supporting our staff on their Te Reo and Tikanga Māori learning journey is very important, as we are very focused on increasing our organisation's Māori responsiveness. We know that staff who are confident in Tikanga and Te Reo will help to deliver a whanau-focused service to our people." Taylor says her staff have been keen to broaden their knowledge of Te Reo and tikanga Māori, and for some these classes mark the beginning of their cultural learning journey.
"Just over half of the staff based at the Timaru service centre have embraced the opportunity to learn more about Te Reo and Tikanga Māori. We are incredibly proud of the commitment and determination our staff have shown to successfully complete this qualification."
Clare Bruce, a Work Broker for MSD, really appreciated the course. "The lessons were interesting, informative and it was a supportive environment created by MSD management and Ara. Presenting my mihi was a daunting challenge but the sense of achievement afterwards filled me with pride that 'I could really do it' and it was my own personal story."
Taylor has seen positive changes in the workplace since her staff's attendance at Ara's courses.
"One of the highlights of this training was its delivery at our service centre. This has meant that Tikanga and Te Reo have become an integral part of our workplace and how we do things - our meetings start with karakia and a waiata. It has been beneficial for everyone to put into practice the learning from the qualification and continue to build cultural competency." Mr. Tibble agreed, stressing the importance of real-life interactions. "We get something from Ara's physical face-to-face teaching that you just can't replicate over a webinar. You need to breath and feel the language. You can't get that emotional connection to te reo via an app."
MSD are currently investigating options for staff to continue to advance their cultural competency, with plans to enrol new staff in this course, and to have the graduates complete further training.
"We will continue to support our staff to learn more about Te Reo and Tikanga Māori to build their confidence and MSD are exploring ways our staff that have not completed the qualification can do so in the near future," Taylor says.
Hemi Hoskins, Head of Department for Humanities at Ara is also pleased the relationship is continuing to develop. "Ara have been promoting the benefits of learning Te Reo and further engaging in Mātauranga Māori, which gives people the valuable opportunity to broaden perspectives and empathise with a wider range of views or value sets."
Mr Tibble concluded "MSD looks forward to working with Ara to build the next phase of our te reo journey, so that we can grow a stronger personal kiwi identity, and ultimately better serve the whānau that we are here to support."
For more information on Te Reo Māori training options for businesses please email engagement@ara.ac.nz or call 0800 24 24 76.