Showtunes galore: NASDA performs at The Piano
Following a return to campus post-lockdown, students from the National Academy of Singing and Dramatic Art (NASDA) at Ara Institute of Canterbury have already performed two plays and a musical and on Wednesday 22 July, the final-year students performed a free concert at The Piano Centre for Music and Performing Arts, in Christchurch.
The concert was a fantastic showcase of solo pieces from musical theatre, ranging from well-loved musicals like Les Misérables, to selections from recent Broadway Hits like Hadestown.
Student Phoebe Robertson, who performed 'Another Night at Darryl's' from The Witches of Eastwick, was thrilled to be singing to a live audience.
"This is my first singing performance since lockdown. I've been practising this song for ages, but I haven't performed it yet so I'm really excited to get it on stage and see how it goes with an audience. It's going to be a lot of fun!"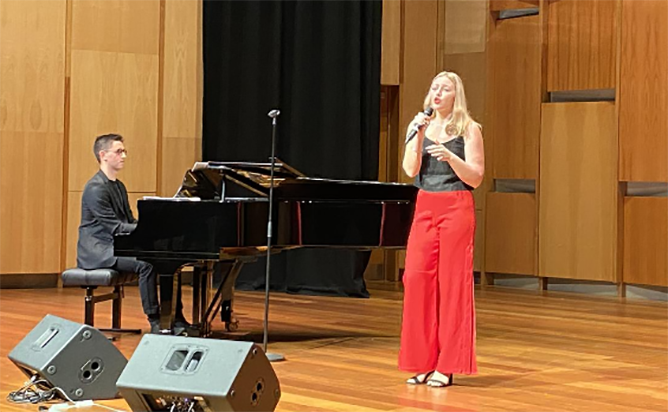 Student Phoebe Robertson performing at The Piano
Her classmate Callum Bishop agreed. "I'm looking forward to performing at The Piano as a solo act. It's a new experience for us which will give us an insight into performing in the outside world. It's essentially a whole new learning experience, being in a different venue with a different audience."
NASDA Programme leader Trevor Jones directed the concert, and commented "I feel very fortunate that we are able to perform to a live audience again here in New Zealand, at a time when that isn't possible in so many other parts of the world. The students and staff have been working hard to get back in front of a live audience, and it really shows in the quality of the performances."
NASDA students can be seen next onstage this August in 'UrineTown' - a hilarious musical satire of the legal system, capitalism, social irresponsibility, populism, bureaucracy, corporate mismanagement, municipal politics and musical theatre itself!