School of Wellbeing event is Orana's gain
Ara students and staff got their hands dirty as volunteers at Orana Wildlife Park yesterday [1 Nov], helping with grounds maintenance including a clean up of the otter enclosure.
Students were then rewarded with a visit to the lion encounter where they saw some of the park's biggest cats up close.
Ara's international students are regular volunteers at Orana, however this was the first time an institute-wide group had visited to help out with the work of keeping a wildlife park in top condition.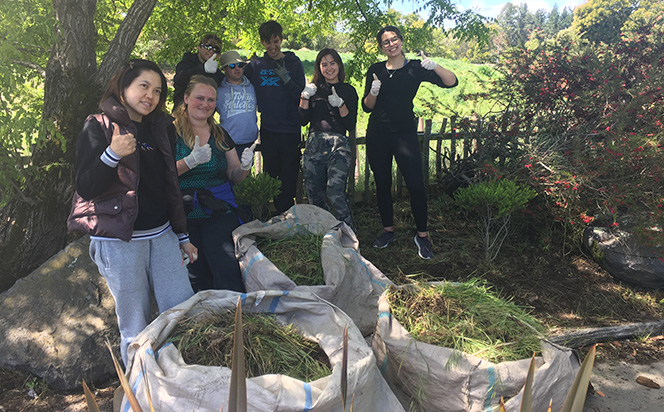 School of Wellbeing
Savanna Ornsby, Manager of the Ara Recreation Centre, mobilised the students as part of the Institute's annual School of Wellbeing (SOW), now in its third year.
"School of Wellbeing is all about experiential learning. The events and activities align with the Mental Health Foundation's five ways to wellbeing, and focus on ways to connect, give, keep learning, be active and take notice," Ornsby says.
The Orana Wildlife Park clean-up effort was a way to encompass all five ways to wellbeing.
"You're connecting because you're in a group of peers, you're being active walking around and doing tasks, you're learning, and you're taking notice as well while you're getting a behind the scenes look at the background of the park."
The value of volunteering
Ornsby believes that many students want to volunteer, but with busy lives consumed with essays and assignments and trying to balance a social life too, they might not know where or how to start.
"I think a lot of students want volunteering opportunities but because they have so much going on they don't always go looking for it…it's about helping them to put thoughts into action. It's nice to see them do it together as Ara students, and as a community of peers."
Ornsby urges people to take care of their own wellbeing. "You can do other things better when you're in a better state of mind. People don't know how important wellbeing is to success."
There is a variety of other events on offer within School of Wellbeing including a photo competition for students to submit their best 'nature grams' and a morning group walk up to Victoria Park.