Scholarship celebrates life of late nurse
Supportive, well-respected and working to a high standard
Three characteristics that describe late nurse and former Ara student, Kim Milward. Milward was much loved by her family, friends and colleagues and has been missed around her former workplace Christchurch Women's Hospital since losing her battle with breast cancer in 2013.
The characteristics celebrated in Kim's personality and her passion for nursing are reflected in this year's Kim Milward Scholarship winner Rupinder Dhesi.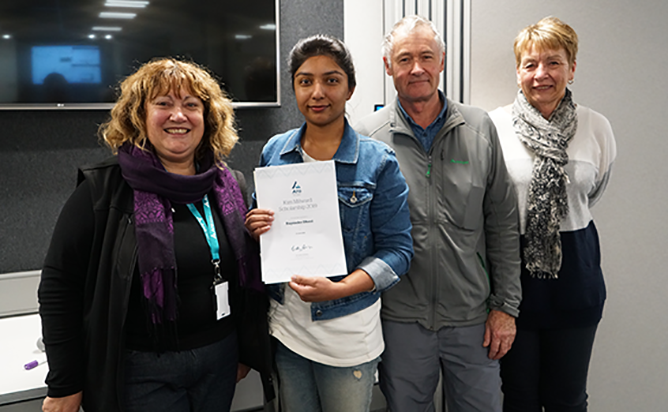 Rupinder with (L-R) Cathy Andrew Head of Department Nursing, Midwifery and Allied Health, David Milward and Marie McMillan (CDHB).
Dhesi, who has already been offered a job at a mental health facility in Christchurch, said she has always wanted to work in the health care sector.
"I love working with people and helping them. So I thought nursing would be the best career for me to be in touch with people and support them the way they need. I chose to study an enrolled nursing course because I think enrolled nurses are more hands on with the patients. They work closer with them and that is what I want to do."
Rose Mitchell,Programme Leader for New Zealand Diploma in Enrolled Nursing at Ara, was part of a group of nurses and doctors who raised money for Milward and then used it to establish a scholarship in her name for Ara students.
"With the loss of a very special person we wanted to give something that would keep alive the memories of Kim's talents. What we are expecting from the recipient of this award each year is that they value the personal and academic standards that Kim represented as an enrolled nurse in the workplace," said Mitchell.
Cathy Andrew, Head of Department Nursing, Midwifery and Allied Health, said this is the third year of awarding the scholarship but the first time it has been given at Manawa.
"Rupinder was chosen because of her high level of achievements in both the theoretical and clinical components of the NZ Diploma in Enrolled Nursing programme. Staff and fellow students describe her as empathetic, caring and supportive."
Kim's husband David Milward and Marie McMillan an enrolled nurse at Canterbury District Health Board presented Dhesi with the award.
At the same ceremony two other outstanding students received special awards:
Pamila Hunter won the Enrolled Nurse Student Clinical Excellence Award from the New Zealand Nurses Organisation for demonstrating excellent clinical practice. She easily established a good relationship with the people she cared for as well as the other health care team members and as such her open and empathetic approach with patients did not go unnoticed.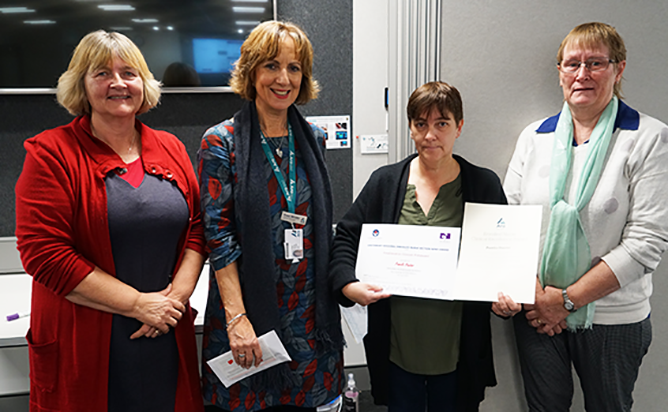 This year's NZNO EN Student Leadership Award was given to Jade Craw. She is a natural communicator and has the attributes of being an intuitive leader who supports the health team and her peers.