Passion and hard work yield success for Music Arts Honours graduate
Feleti Pesefea had little idea of what he wanted to do after school.
Fortunately, he started on a path of study and, as one thing led to another; he explored his talent and passion for music.
It has been quite a journey for the 24-year-old Samoan graduate, leading him all the way from trades training, through to a Music Arts degree and postgraduate studies at Ara. He attributes his success so far, to his strong cultural values such as perseverance and gratitude.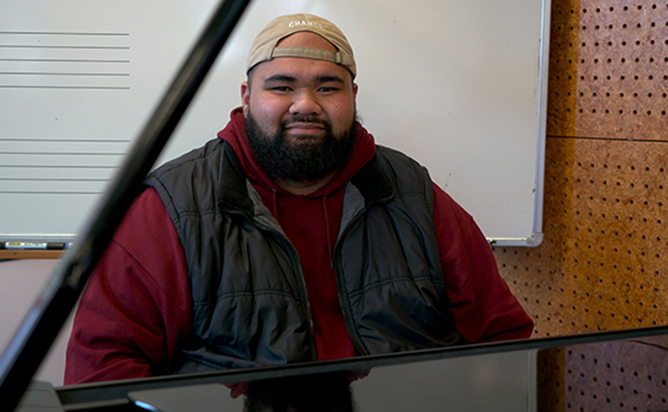 Feleti's background
Although he was born and raised in Christchurch, Feleti's parents surrounded him in Samoan culture. He says their hard work and sacrifice gave him and his siblings the educational opportunities they themselves never had.
"If I could explain my life in one word, it would be blessed, because of all that my parents have done for me and my siblings; their influence and raising us in our culture to be aware and understanding," Feleti says.
When he finished school in year 13, Feleti wasn't sure what he should do next.
Starting working in a trade
"I thought I'd take a year off, work and save a bit of money, but then the Pasifika Trades Training scheme came along. That was 2012 and my dad said 'Why don't you just try it out and see how it goes'. So, I was part of the first PTT scheme at Ara, and I loved it."
After getting a pre-trade qualification in plumbing, Feleti got a job at Hynds Pipes.
"It was really good to be earning money to help my parents, cause that's what we do in Pasifika families."
He was only 20 when his team leader at Hynds left and his boss asked him to step up to the role- he accepted the challenge.
"I think he saw something in me and entrusted me to look after that team."
After three successful years working at Hynds, Feleti decided to move on.
Following his passions
"I was working, working, working and it was cool, the money, but I just felt like it wasn't fulfilling. That's when I realised how much of a passion music was for me. Whenever I was doing something with music, it just made me a different person and gave me the freedom to express myself."
Feleti enrolled in the Bachelor of Music at Ara where he liked the small class sizes and particularly enjoyed learning from local professional musicians.
"They were veterans of music and here they were giving back to us. It was inspiring and I thought 'I can do that'. That's what my parents instilled in me: the value of giving back. That's why I have thought about being a teacher."
Feleti's aspiration to be a teacher, and particularly a music teacher, isn't surprising given his upbringing.
"My parents saw church as a good way for me to be immersed in our culture and music. It's really made an impact on me now, pursuing music in my studies."
Church also helped foster Feleti's leadership abilities. As well as being involved in the church choir and youth choir, he's a youth leader and tutors Pasifika students in music.
"I feel blessed to be able to share a bit of my culture with these students. "A big motivation for me is to give young Pasifika children good advice, encourage them to study hard, and to be an advocate for the importance of education."
Now that Feleti has completed his Bachelor of Music Arts (Honours), he is looking to do further study in a Master of Arts.
"There are so many things you can do if you work hard. If you persevere and stay true to yourself, there's no reason why it's not achievable."