NASDA students show us how art guides us during troubling times
Fittingly enough, 'Mr Burns – A Post-Electric Play' is the first production to be staged by Ara's National Academy of Singing and Dramatic Art post-COVID.
The play, which features third-year NASDA students, opens on the 29th of May and continues through to the 4th of June.
Directed by NASDA's Acting Tutor Tom Eason with musical direction by Ara alumni Andy Manning, Anne Washburn's 2012 script explores the meaning of story-telling via the interactions of a group of strangers, bought together after a devastating nuclear disaster which has plunged society into darkness, disarray and death.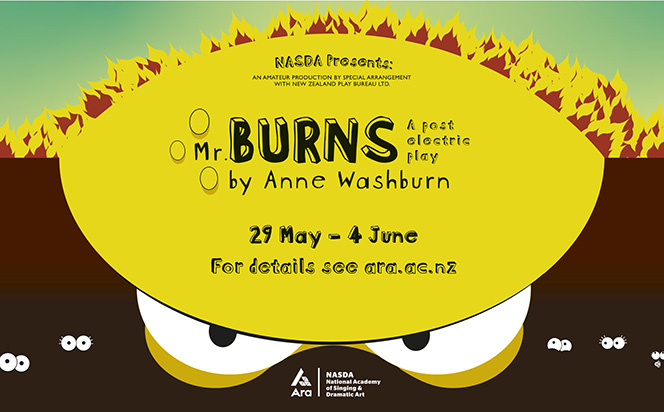 The eclectic group of survivors are preoccupied with recalling and then recreating the iconic 'Cape Feare' episode of The Simpsons, an activity thatevolves throughout the course of the play into a bona fide theatrical enterprise and then, years later, into the ritualized part of the collective cultural canon - as revered as the works of Shakespeare once were.
Like Stephen King's dystopian doorstop of a novel 'The Stand' and, more recently, 2014's 'Station Eleven' by Emily St. John Mandel, novels about post-disaster societies seem to have an enduring hold on the collective imagination. From gore-soaked zombies through to the eerie emptiness of virally-decimated cityscapes, readers seem to gain some comfort from entering into the imaginations of those who've dared to envision the very worst that can befall humankind.
It goes without saying that the play's theme resonates very strongly within the minds of the virally-vigilant. Tom Eason, the play's director, definitely sees the irony in staging a post-apocalyptic stage show amid a context of self-isolation, panic-buying and border closures. But he also sees other connections. "Theatre brings people together after testing events for humankind" he points out, a meta-sentiment that sums up the play's message and its potential role here in Christchurch.
With that thought in mind, Mr. Eason is keen that local theatre-lovers and supporters of Canterbury arts make time to see the play during its run at Ara's NASDA Theatre. "The space here accommodates well under 100 people and it's spacious and well-ventilated, so we're adhering to all of the government personal safety guidelines."
Certainly the dedicated young cast are ready to deliver some impressive and impassioned performances, and the fully-realised performance promises a perversely electrifying evening of dark modern comedy.
Performances start at 7pm and tickets are $27 (general Admission) and $17 (students, senior citizens).
NOTE: accompanying photos were taken prior to lock-down conditions.