Master of Sustainable Practice a NZ first
Six years in the making, the new qualification for future change makers and leaders brings together teaching staff from across the institute to work collaboratively.
Students in the programme will also work collaboratively and across disciplines to solve real world environmental, social and technological challenges.
Programme leaders Dr Allen Hill and Dr David Irwin teach in the Sustainability and Outdoor Education department but have drawn academics from across the institute who are passionate and knowledgeable about sustainability in their field for the new programme.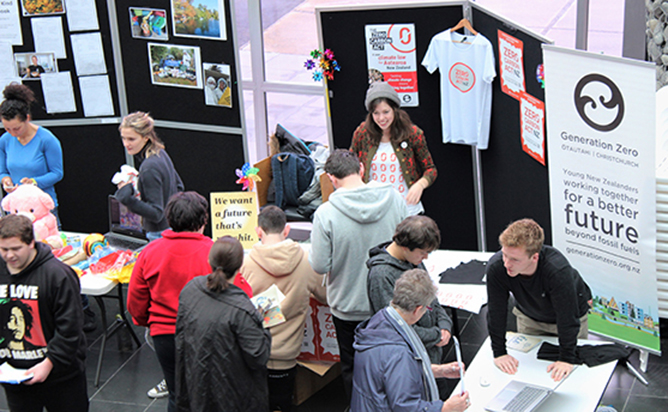 Taking action at Ara; the new Masters of Sustainable Practice is for professionals who want to make a difference.
With new awareness generated by the release of the IPCC report and government initiatives such as plastic free by 2020 and banning sea oil drilling, Irwin says the time is right for a Master of Sustainable Practice in New Zealand.
"Solutions-focused collaboration has never been more important - or timely – if we are to achieve the targets we need to achieve as a global community. Every industry and every sector needs to be contributing now and education is where many new innovative projects will begin," he says.
The cultural framework is another essential element of the programme, Hill says.
"This is a new way of doing things at Ara, where we challenge ourselves to collaborate more closely across disciplines and bring our expertise to the table within an embedded cultural framework. Through working together our students can all upskill and learn how to create a better world in which a sense of place enriches us all."
The programme is unique in Australasia and is modeled after the Arizona State University's School of Sustainability programmes. Ara is also introducing a graduate Certificate of Sustainable Practice and a Diploma of Sustainable Practice – which can lead on to the Master qualification.
Accessible for working professionals, the qualification can be completed in 18 months full time or as a part time option. Each paper begins with a Marae whanunga/workshop with two days of face-to-face learning followed by weekly, early evening online sessions for the remainder of the semester. Distance learners have already expressed interest and overseas applications will be taken for 2020 and beyond.
Anyone with a Bachelor's degree can join the programme, which combines six level 8 papers with an applied research project at level 9, suited to students' areas of expertise and interest.
Partnerships are a key to the success of the programme and Ara has already started discussions with a number of organisations following a presentation about the new programme at the Sustainable Business Network Southern Hui on 27 September.
As a multidisciplinary programme, the Master programme will be taught by research staff from sustainability, business, engineering, architectural studies, midwifery and international tourism and hospitality.
"It is not enough to be an expert in your field anymore; you have to be able to work collaboratively," Ara Humanities academic Faye Wilson Hill, a former sustainability for teachers educator, says.
Students will gain broad knowledge of global and local driving forces, worldviews, theoretical perspectives, and debates related to social, economic and environmental dimensions of sustainability.