Inspirational start to the day
Hana O'Regan has a soft spot for Ara.
Ever since she was Head of the Māori language department at CPIT in 1997 she enjoys returning to Ara's Christchurch City Campus and engaging with the community.
On Tuesday morning at the Business Leader Breakfast, O'Regan spoke to over 90 local professionals about effective leadership and how to include cultural competency into a workplace.
"You open up worlds if you open up your eyes. You open up opportunities if you open up your thinking and what you see," O'Regan said.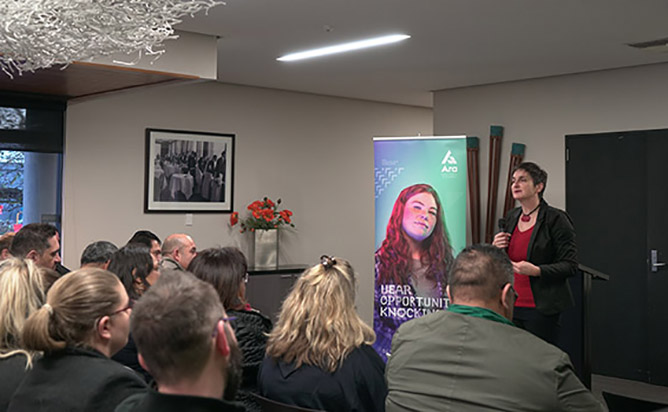 Hana O'Regan delivered a motivational speech to Canterbury professionals about effective leadership and cultural competency.
With humour, anecdotes and a sense of urgency she encouraged the crowd to integrate cultural awareness into their everyday life at work.
"If we can achieve a level of cultural competency, we also naturally increase diversity; diversity in thinking, diversity in reaching customers, diversity to engage a wider range of employees.
"Effective leadership requires us first of all to know our landscape, know more about the community that you're sharing your space with, your customers, stakeholders, your employees. And then sometimes doing the hard thing and following a path that not everyone else is on to get a different result."
Ara's Business Breakfast series is an opportunity for managers and their staff, careers advisors and anyone who is interested in this field to hear from highly-regarded business professionals on a wide variety of topics that give insight into how to create high-performing teams. These sessions aim to inspire, motivate and help increase productivity and teamwork.
Find out more about Ara's training courses for businesses. To be added to our mailing list so you can attend the next Business Breakfast, please email engagement@ara.ac.nz.